We first met at Spokane Falls Community College when John Richard Mraz was a part-time faculty member in the design department. (He taught full-time from 1980 to 1983.) Although I had just one class with John, we struck up a friendship that, on January 1, 1988, turned into Anderson Mraz Design. For the next twenty years, before he stepped down as partner and into his current state of semi-retirement, John continued to forge a reputation as one of the region's finest designers.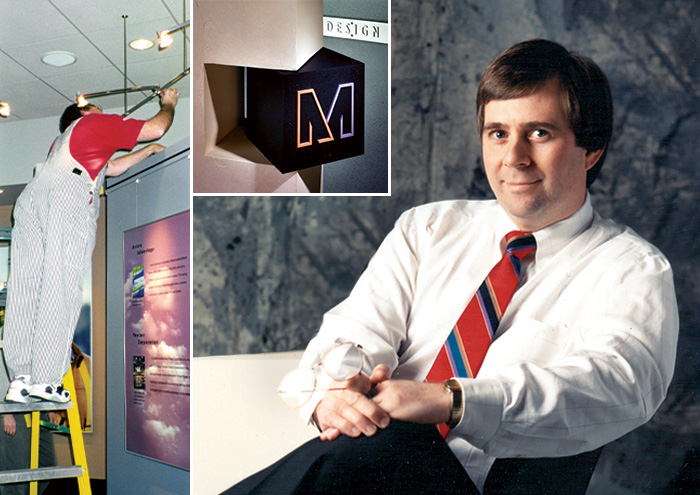 Known for his prowess designing logos, packaging, and printed materials, John's most impressive—yet largely unknown skill—is designing and engineering custom-fabricated components for displays, exhibits, and 3D installations. Today, he continues to lend these skills to helveticka. His mastery of materials and knowledge of the fabrication process—as well as of fastening systems and hardware—is extraordinary. Combine this talent with an innate love for details, and you have one seriously anal designer.
John calls this the Mraz Curse, because it apparently runs in the family. He actually lies awake at night thinking through all the ways something can be easily fabricated while not only looking great, but also being simple to install. It makes him one of the world's best installation planners, which may help explain why he always seems to be the most comfortable working in a hands-on mode: overalls, tennis shoes, tool belt, and a pencil behind the ear as he puts everything together. It turns out that his experiences growing up on a farm profoundly shaped his design career.