There's a particularly obnoxious trend I've been meaning to write about for a while now, but hadn't yet found an example egregious enough to make my point.
Until today.
Let me set this up: A month or so ago I received my limited-edition boxed set of the Grateful Dead's July 1978 concerts, two of which were at Red Rocks Amphitheater in Morrison, Colorado. I happened to be there last week, and, as you can see, it's pretty spectacular: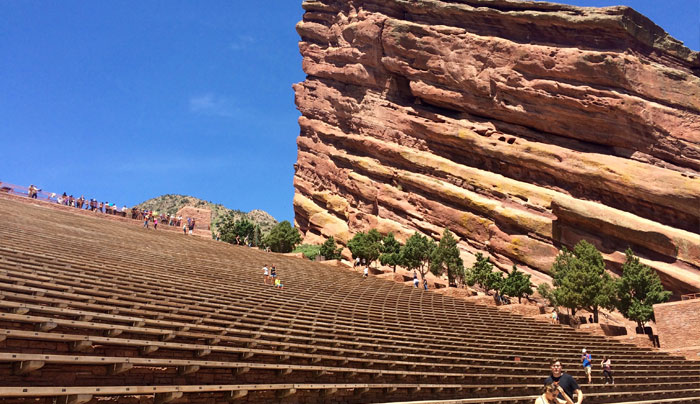 So with Red Rocks on my mind of late, I naturally clicked on this Denver Post story this morning. It purports to reveal the ten "most memorable concerts in Red Rocks history." (Let's be honest, though. Any list that doesn't put the Dead's July 8, 1978 show at the top really shouldn't be taken seriously.)
I digress. The Post mentions the "stunning vistas and naturally honed acoustics"; that the venue's reputation "has a way of forcing artists to deliver their best while practically begging for crystal-clear live albums and heroic videos"; and that "the music, mood and weather often combine to produce the feeling of something legendary."
So far, so good. Then you get to this line:
"Here's a curated list of the most memorable Red Rocks concerts — the greatest, the most disastrous and the most influential — in honor of the venue's 75th anniversary season, culled from decades of Denver Post coverage."
Did you catch that? A "curated list." So, well…a list. There's nothing curated about it, you pretentious twits. Just like there's nothing curated about Internet clothing subscriptions, online retailers, or beer dinners—whatever those are.
No, this is what a curator does:
"…collect, exhibit, interpret, maintain, and protect objects of historical and aesthetic importance primarily in museums, libraries, and private collections.…Both graduate education and practical experience are required for people who wish to become curators. Aside from an extensive knowledge of history and art, it is useful to have a basic understanding of chemistry, restoration techniques, museum studies, and even physics and public relations."
Not to mention that the very word curator comes from the Latin for "to care for."
This conflation of list-making with the type of work that often requires a PhD is a pervasive menace. And it's not just me, either.
"Nowadays, every person picking out a new collar for their dog is a curator," said EWU professor of history Larry Cebula, whose wife, incidentally, bills herself as a curator of vintage barware. (Oh, hey Renee—have you found us a mid-century decanter and some rocks glasses yet? We have a couple of bottles of Rittenhouse Rye that need a good home.)