I. M. Pei recently passed away, but not without leaving a legacy of several iconic buildings from around the world. So it seems appropriate that I should share his (albeit thin) connection to one of Spokane's finest architects.
While researching imagery for our 2013 exhibit SPOMa: Spokane Modern Architecture, 1948-73, I ran across a photograph taken in the mid-1940s at Harvard University's Graduate School of Design. Under the tutelage of Walter Gropius – Bauhaus founder and world-renowned architect in his own right – there was a three-year waiting list to be accepted into this prestigious program.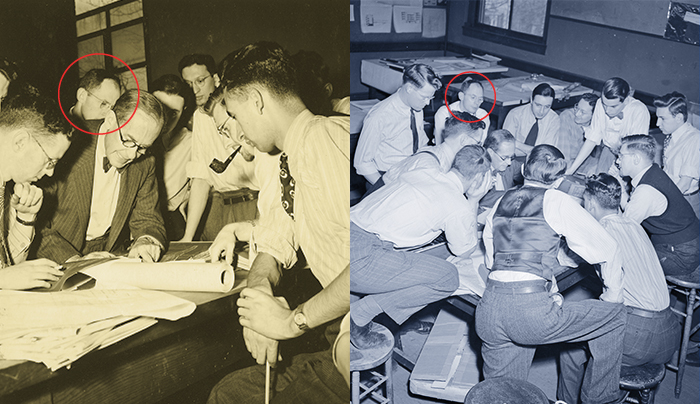 (left) Gropius, wearing a bow tie and glasses, is surrounded by his students. (right) Pei is in the foreground, wearing a vest, his back to the camera. Photographs courtesy of the Francis Loeb Library, Harvard Graduate School of Design.
Though the photo caption didn't identify all the subjects, one particular student caught my eye. Was it possible that it could be Royal A. McClure? I got in touch with Harvard's archives and discovered there were additional images taken on the very same day – March 22, 1946 – with identities noted. Much to my surprise, the gentlemen with the receding hairline, narrow face, and round glasses was indeed McClure.
Both McClure and Pei graduated in 1946, Pei going on to become one of the great modernists of our time, McClure landing in Spokane in 1947. The partnership he formed with Tom Adkison ultimately became ALSC Architects.
So what sort of influence did McClure have on Spokane's own mid-century modern movement? Tom Kundig had some thoughts back in 2003:
Most people have watersheds in their careers. Tom Kundig had a water cabin. When he was a boy vacationing with his family on Lake Coeur d'Alene…, he was drawn to this 1960 Modernist cabin designed by his father's boss, the architect Royal McClure. "It left an impression on me even then," he said. "It was a very classic midcentury design, with delicate detailing and proportions — open to the landscape and very optimistic." Thirty-odd years passed, and Kundig became an architect like his dad and started building weekend getaways for his own clients. Five years ago, he was on a Coeur d'Alene building site when a flashback made him wander down the road a bit. In a perfect bit of coincidence, there stood the McClure cabin. "That little cabin helped teach me to keep things light and expressive of the landscape," he said.