The Heart of Spokane Valley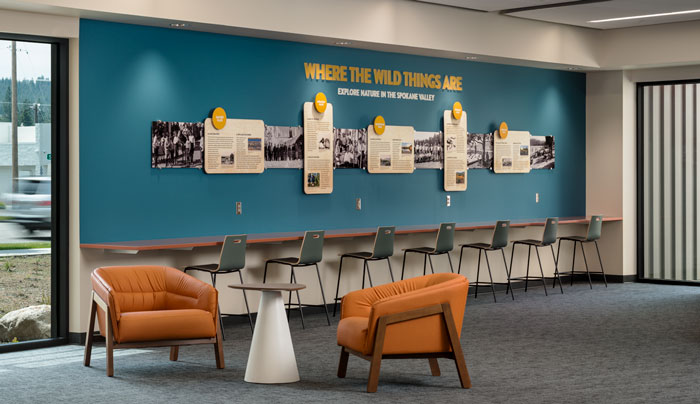 Spokane Valley Library has long been the heart of its community – providing valuable resources, programs, and services to residents for 68 years. In that time, the region's population has grown from 40,000 to over 100,000.
The oldest building in the Spokane County Library District (SCLD), the Spokane Valley Library needed a modern space in a more central location to accommodate the needs of the growing community. Construction of the new building, designed by Integrus, was completed this summer. Now situated along the busiest thoroughfare in the city, the new library is bright, open, and 20% larger than its predecessor. It features a community room, multimedia studio, children's area, and multiple conference rooms.
In collaboration with SCLD and Integrus, helveticka designed exterior and interior signage inspired by the district's recent rebranding, which included a new primary font and logo symbol formed by abstract shapes. Our team also consulted with the Spokane Valley Heritage Museum in developing an interpretive display that highlights recreational areas in the region and their histories. helveticka oversaw all design, content development, writing, fabrication, and installation.
To see more photos of our work at the Spokane Valley Library, click here for signage and wayfinding and here for interpretive design.