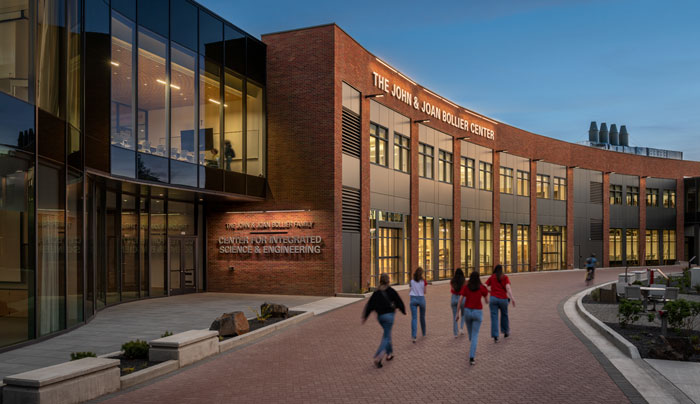 Gonzaga University
In a collaboration with Integrus Architecture and GU's Donor Relations department, helveticka provided design, lighting consulting, and installation services for both exterior and interior signage at the university's new John & Joan Bollier Family Center for Integrated Science & Engineering.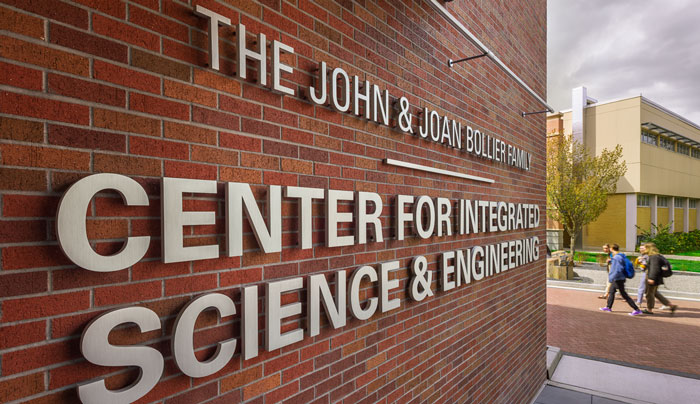 3D aluminum letters signal the building's main entrance.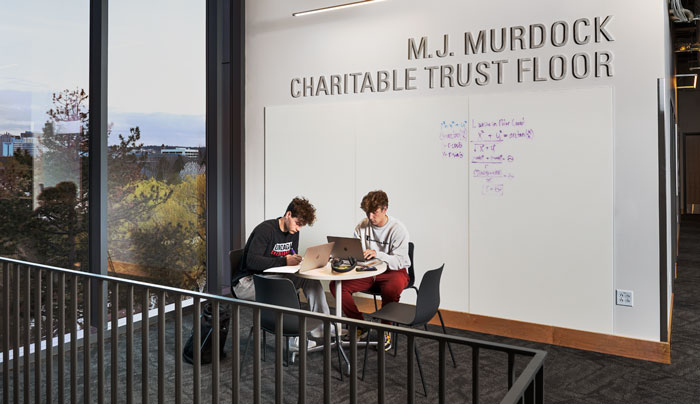 Interior signage included donor-sponsored study areas, classrooms, labs, and faculty offices throughout the three-story, 82,000 SF building.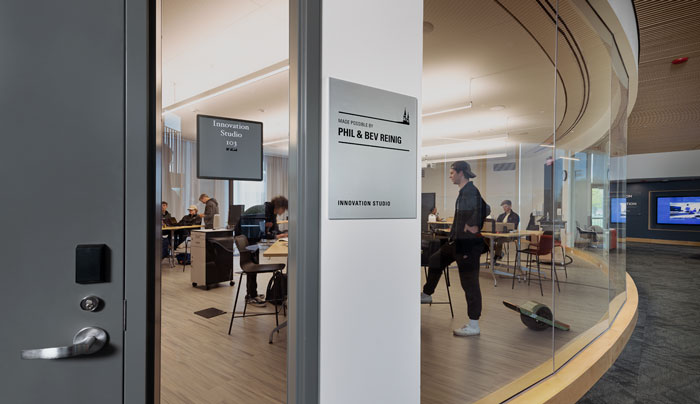 Sign specifications were determined by donor gift amounts.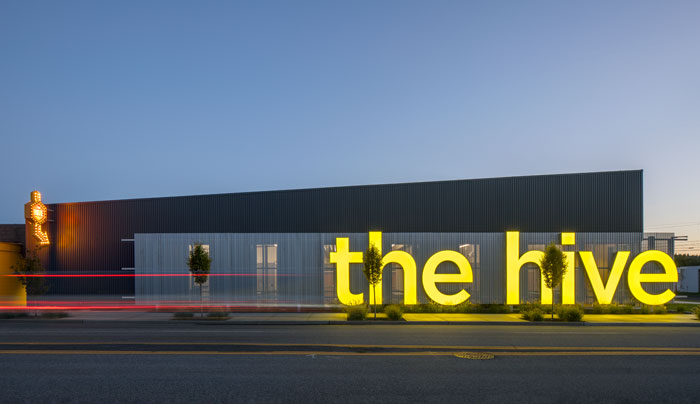 The Hive
helveticka partnered with Integrus Architecture on Spokane Public Library's "Imagine the Library of the Future" project, one component of which was the new Hive – a library without books.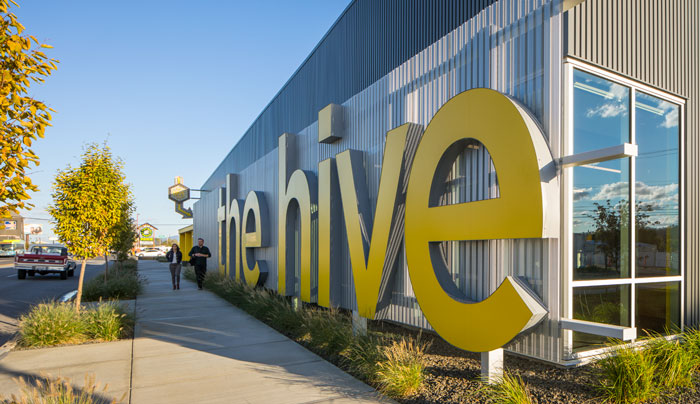 The architectural program called for a large street presence along a busy avenue; the solution was to create an unambiguous identity for the building.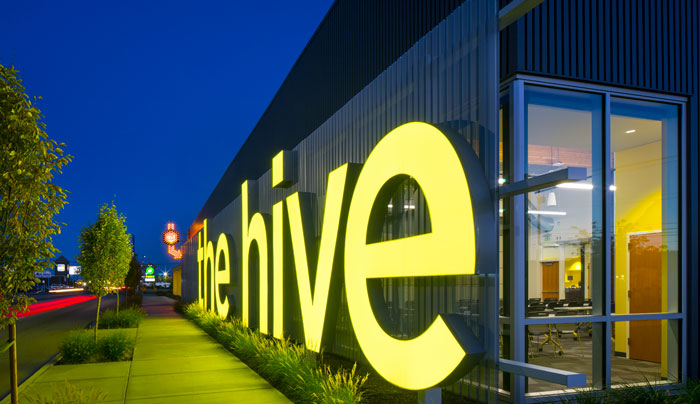 The 12-foot-tall pan-channel letters are internally lit with LEDs.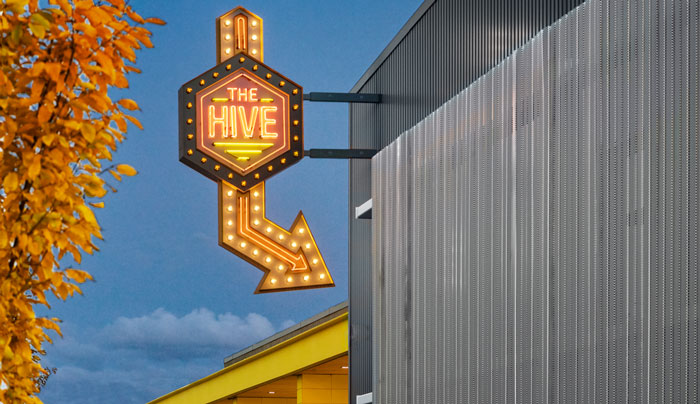 Taking cues from the surrounding post-war commercial neighborhood, a two-sided neon sign signals the building's north entry point.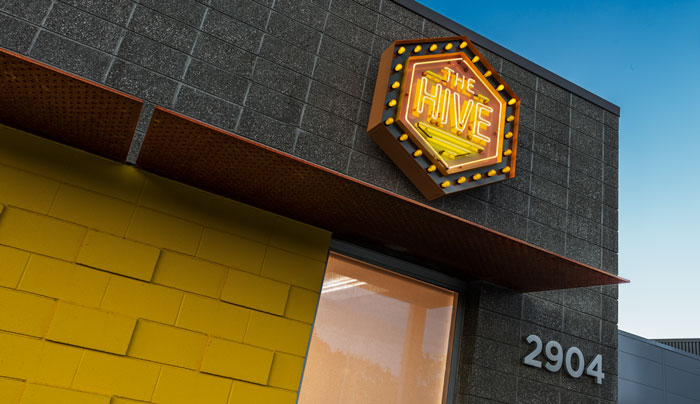 The Hive's hexagon-and-neon theme continues on the south side of the building near the primary entrance.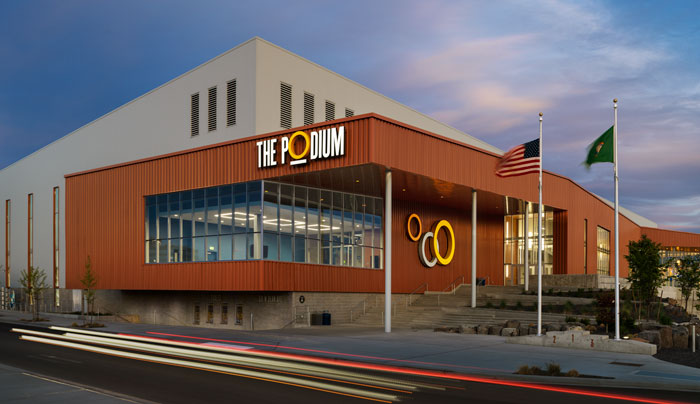 Spokane Public Facilities District
The Podium, Spokane's newest athletic facility, is a 4,000-seat multisport venue sited near the city's downtown core and adjacent to Riverfront Park – a location that meant directional messaging for foot traffic was just as important as that for automobiles.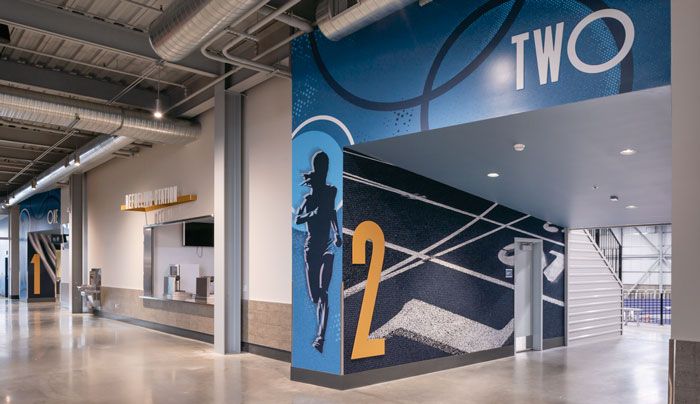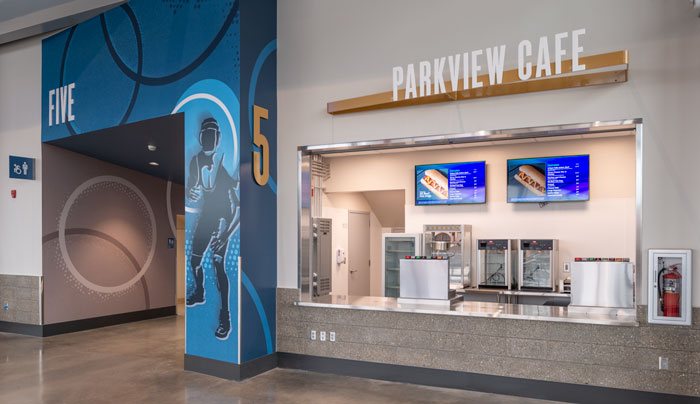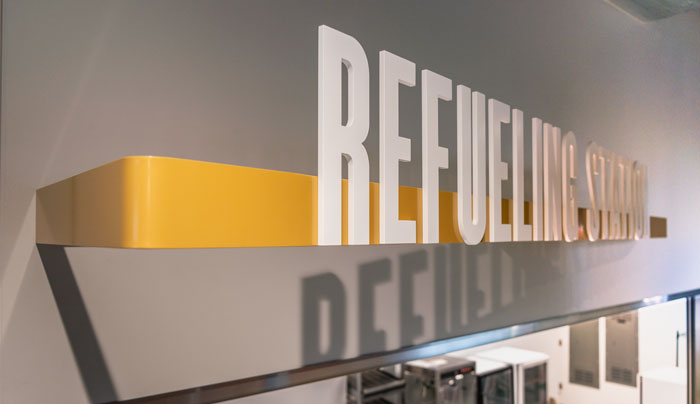 Over a main concourse longer than a football field, signage directs visitors to the field house and concessions.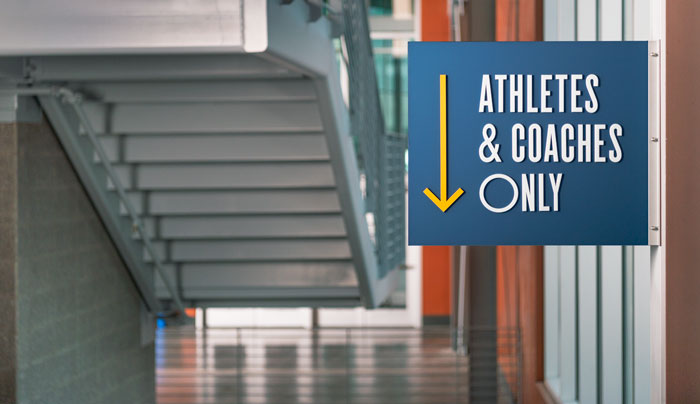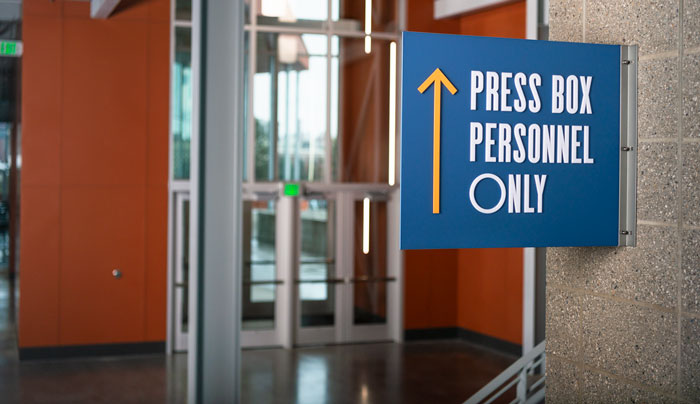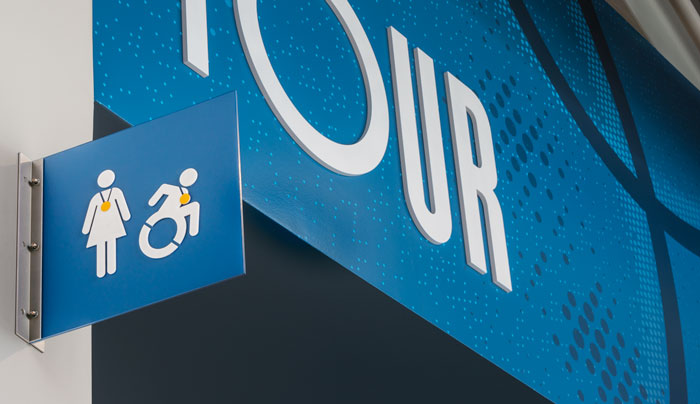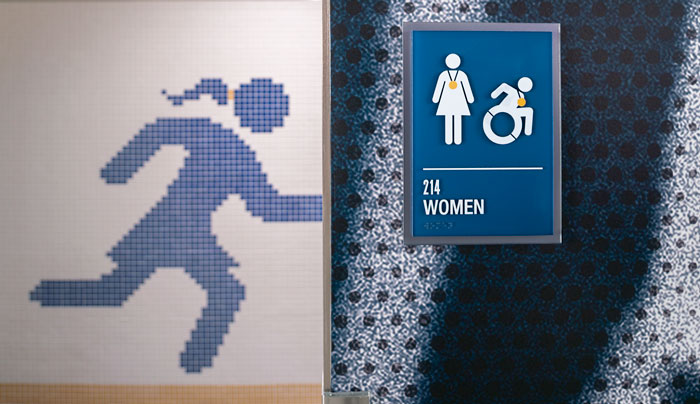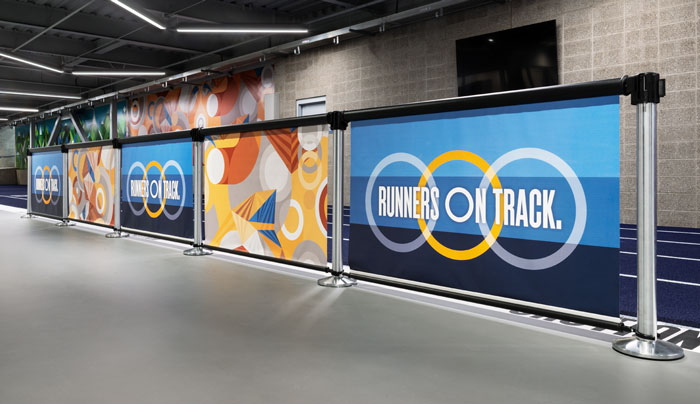 As part of the building's brand identity, wayfinding and ADA signage colors, as well as typography, provide continuity from one sign to the next.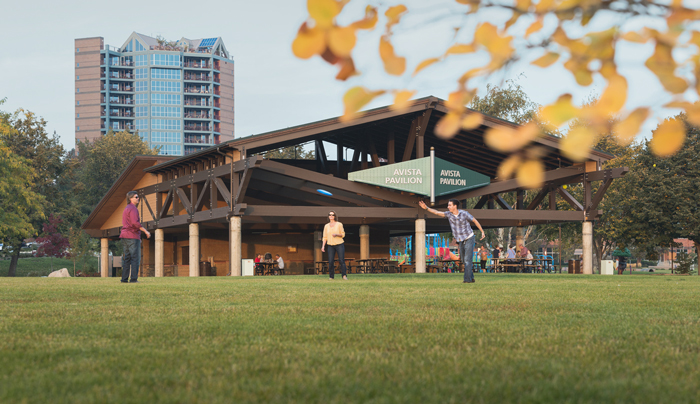 Avista Pavilion
Funded by Avista, the grand pavilion at Coeur d'Alene's McEuen Park can accommodate up to 200 people and is available for private rental.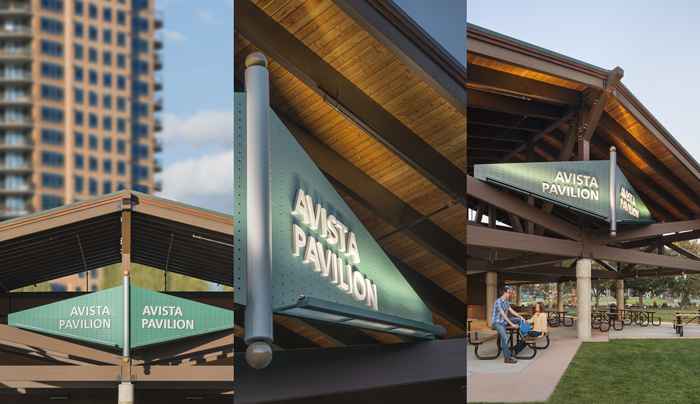 helveticka designed the pavilion's 27' x 8' LED-lit and powder-coated aluminum sign; long-time collaborator Hydrafab Northwest built and installed it.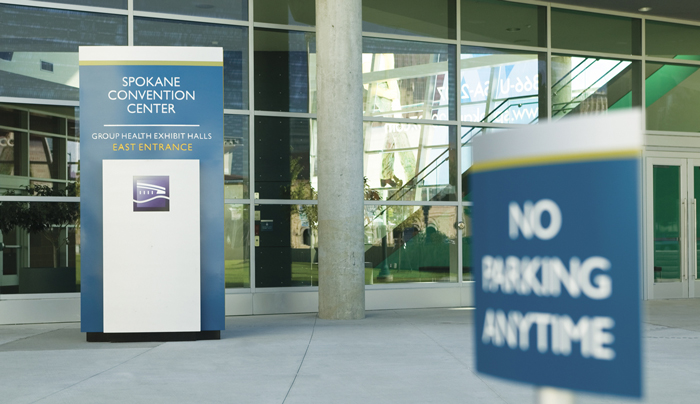 Spokane Public Facilities District – Convention Center
The signage and wayfinding system for Spokane's $89 million Convention Center expansion required more than 600 signs to help visitors find their way around the campus.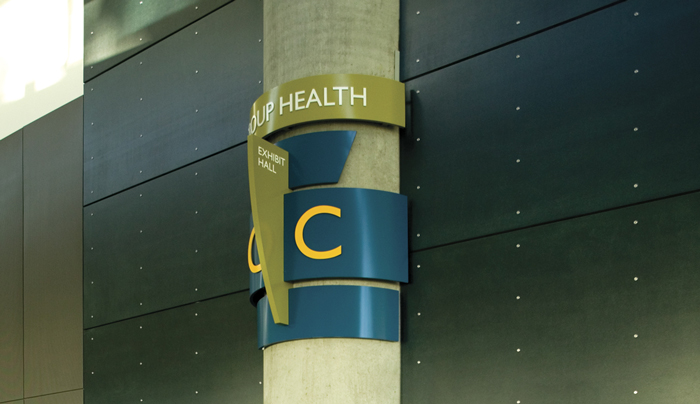 Signage for sponsored exhibit halls is wrapped around existing concrete columns.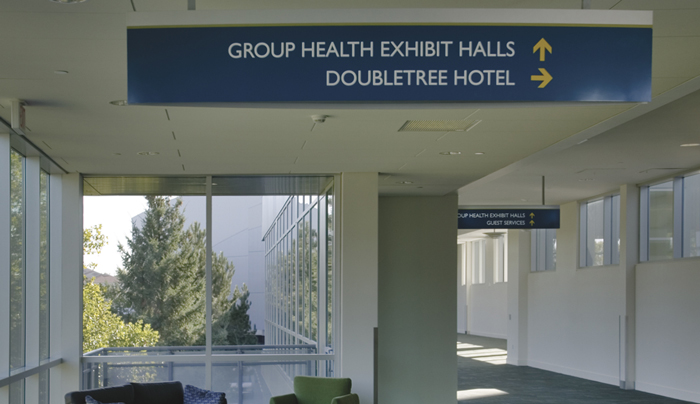 Visitors are oriented at the promenade that joins the original convention center with the recent addition.
back to top
|
<
1
2
3
4
5
>
<
>