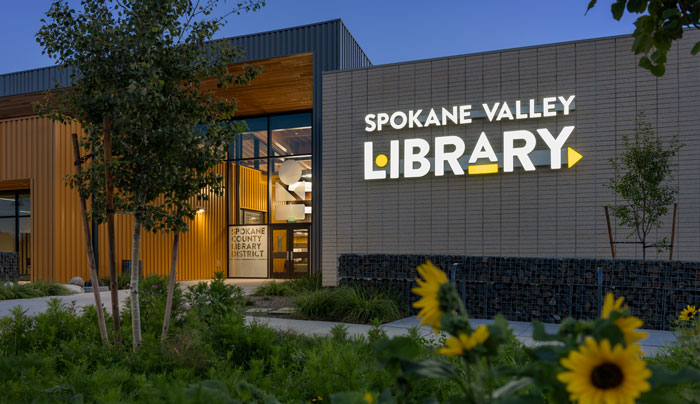 Spokane County Library District
The new home of the Spokane Valley Library, a flagship branch of the Spokane County Library District, replaces its original building from 1955. Designed by Integrus, the new building features exterior signage inspired by the library district's recent rebranding, which included a new primary font and logo symbol formed by abstract shapes (shown above the main entry).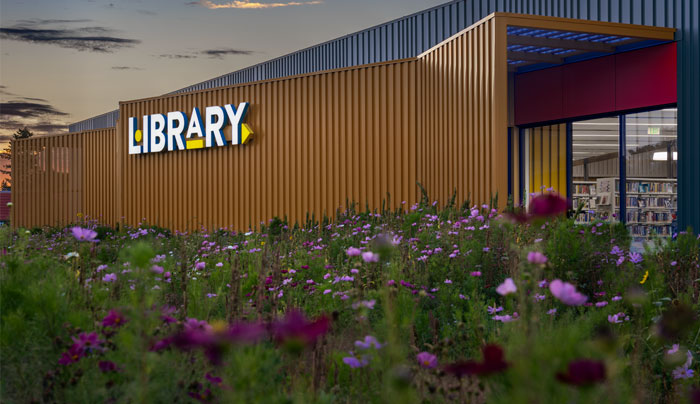 Located along the city's busiest thoroughfare, the building required a primary sign that would be highly visible and legible to four lanes of one-way traffic. To meet this objective, the sign was reduced to just one word – library.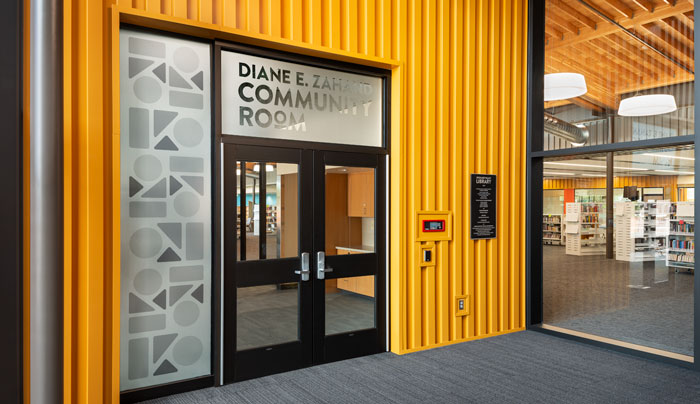 Just inside the library's main entrance, glass vinyl was applied to identify a community event space that can accommodate up to 200 people.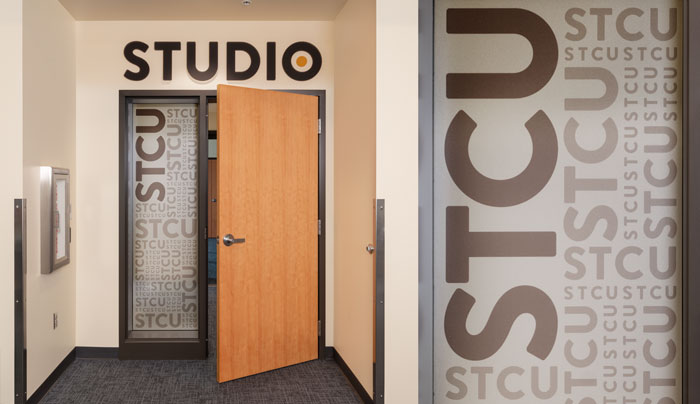 Sponsored by STCU, the studio room allows library patrons to record, mix, publish, and share their own audio and video content.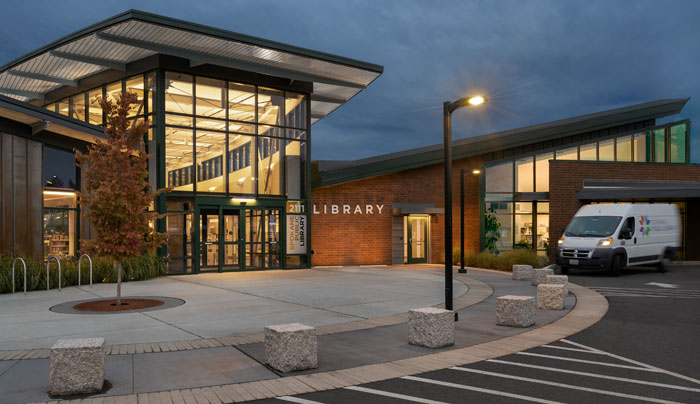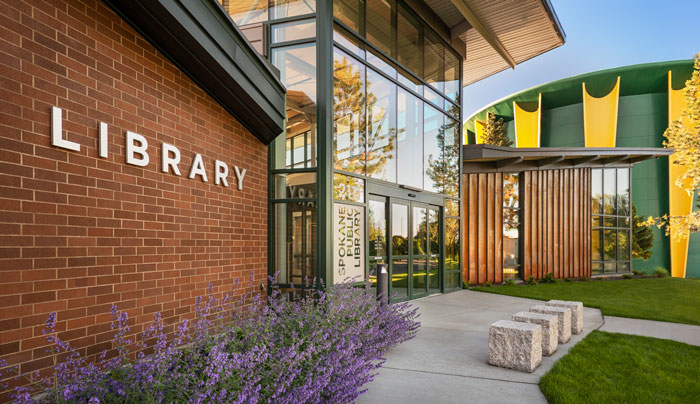 Spokane Public Library
As part of an extensive remodel by Integrus Architecture, helveticka designed a signage and wayfinding program for Shadle Park Library, one of the city's busiest. The library's two main entry points feature minimal signage.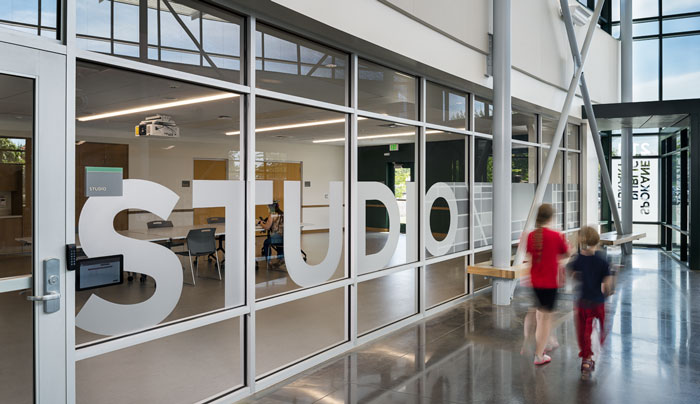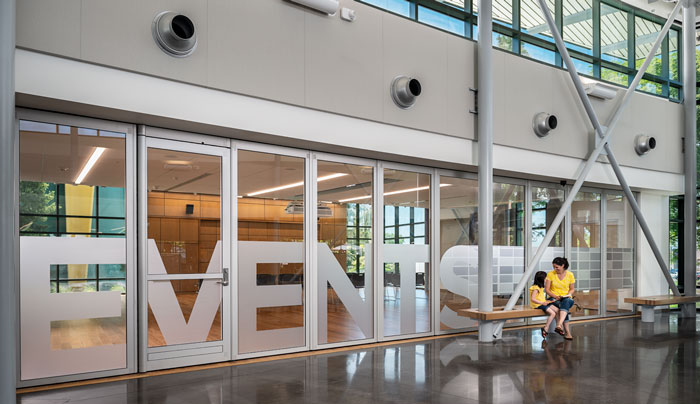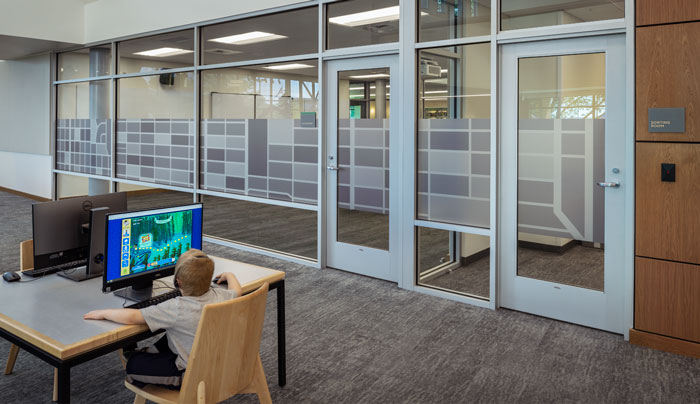 Printed frosted vinyl was applied to identify main interior public-facing spaces, as well as to provide some privacy. The graphic pattern used throughout was inspired by the street map of the post-war Shadle Park neighborhood.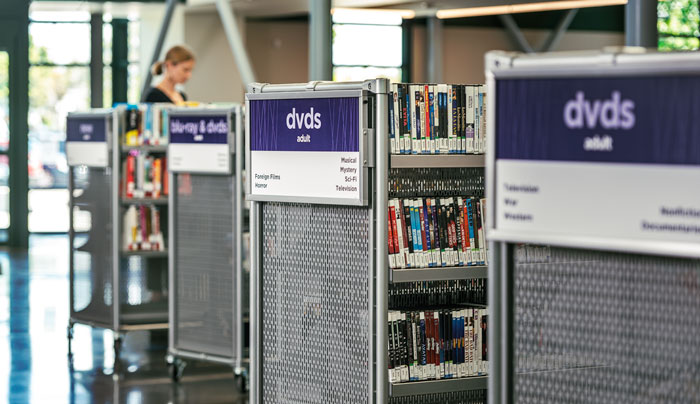 To help patrons navigate the library branch collections, helveticka developed a standardized signage system of categories and colors for all bookshelves – mobile and stationary.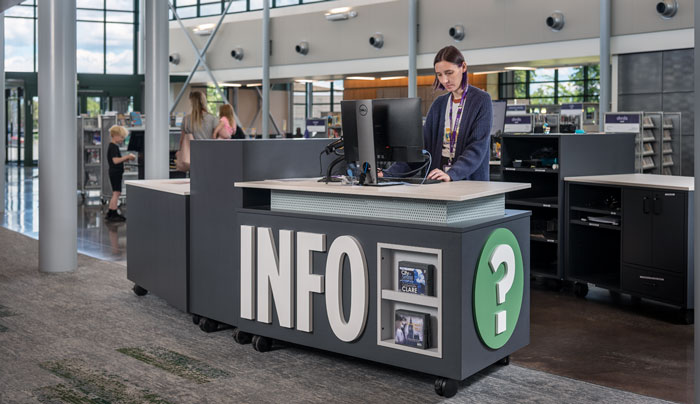 Because information desks serve as the hub for the entire building – especially for visitors – identifying them is critical to the daily activities of the library.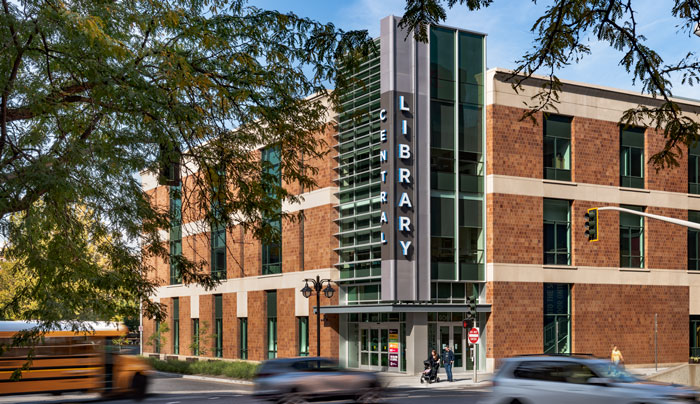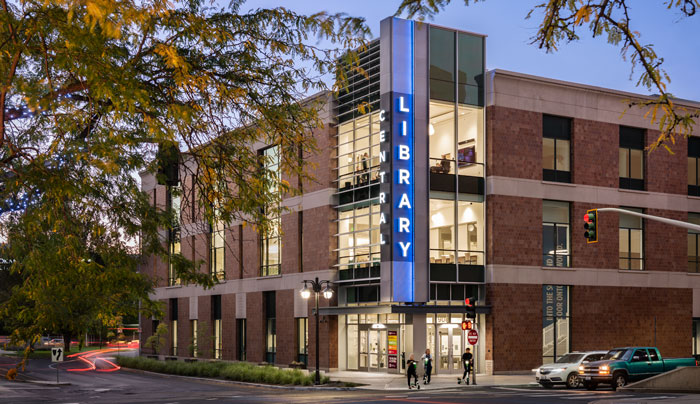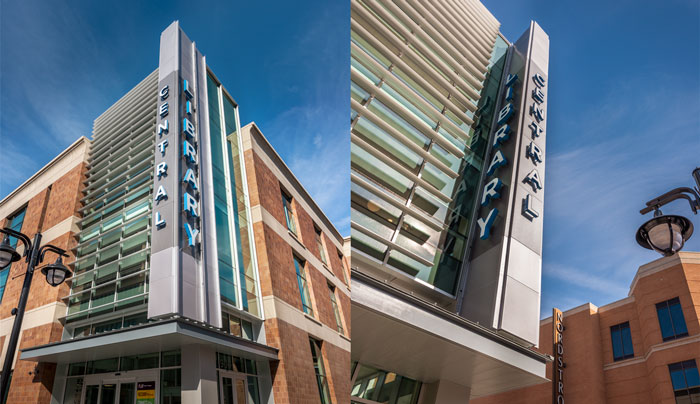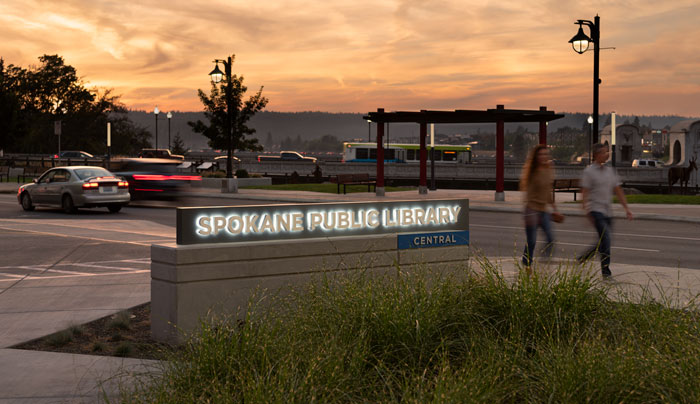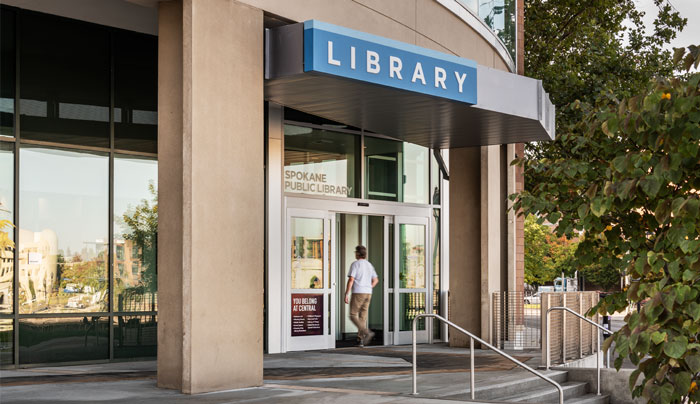 Spokane Public Library
The three-story Central Library – located in the heart of downtown – serves as the hub of the Spokane Public Library system. Designed by Integrus Architecture and Group 4 Architecture, the building's facade features a marquee sign above the main entrance and additional signage near the secondary entrance.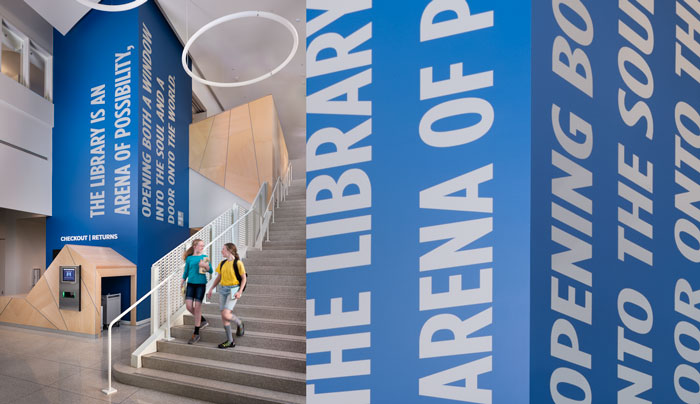 Inside the main entry, patrons are greeted with a quote from former U.S. Poet Laureate Rita Francis Dove.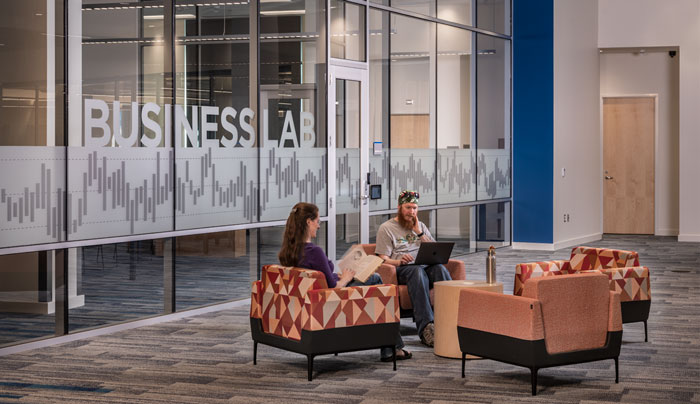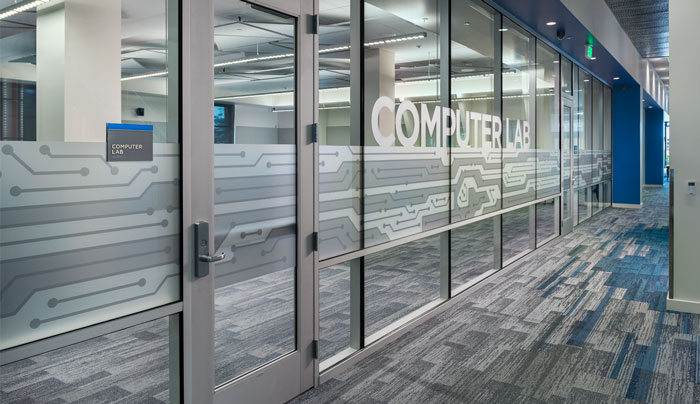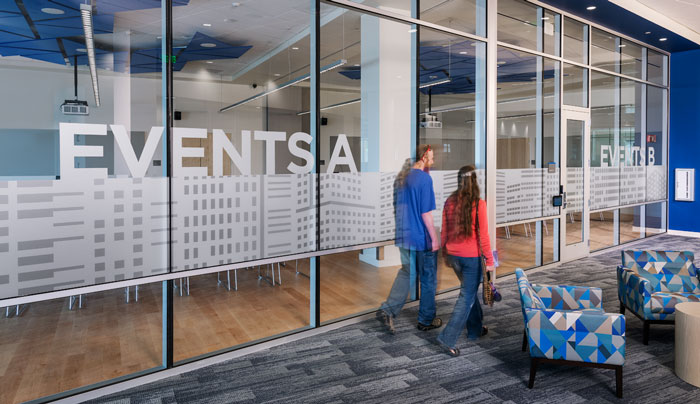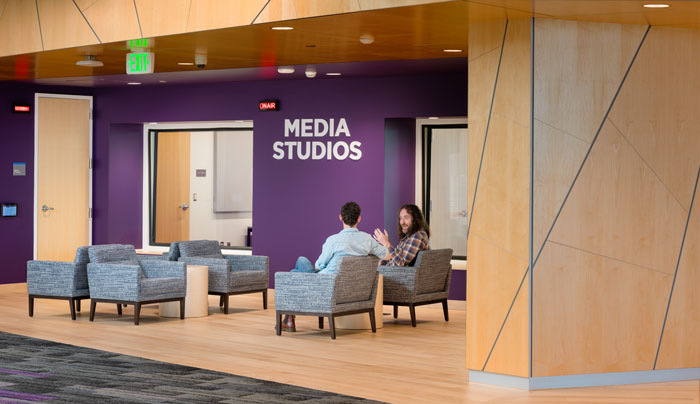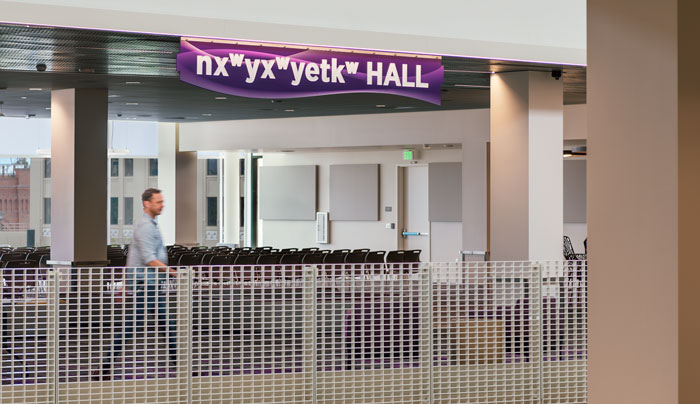 Frosted vinyl graphics not only identify main-level public spaces, but also offer privacy for occupants. Secondary signage marks other key areas throughout the building, including the 300-person event hall on the third floor.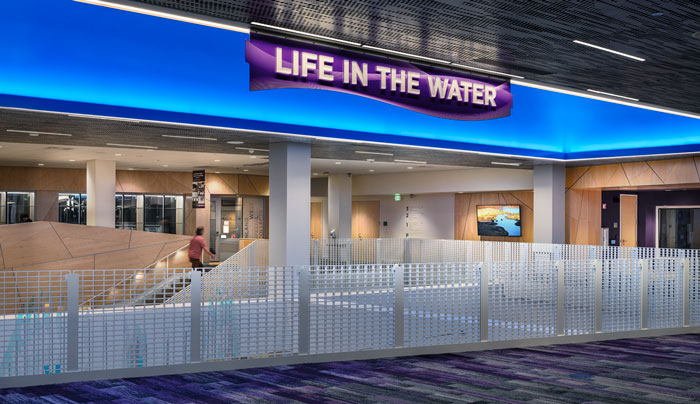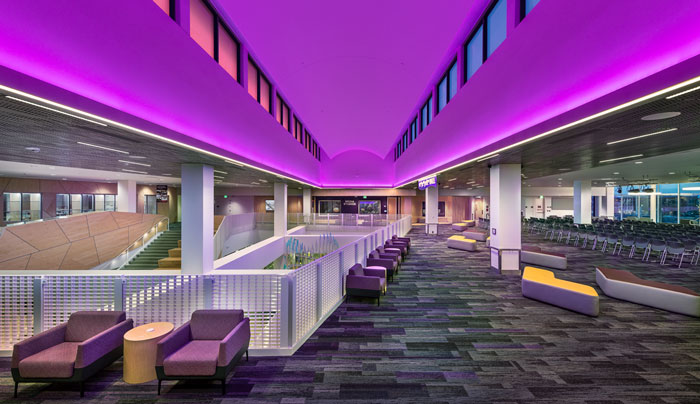 helveticka was tasked with developing a treatment to enhance the vaulted ceiling of Central's three-story atrium. While the clerestory windows provide light during the day, the programmable LED lights add a dynamic, soothing atmosphere at night.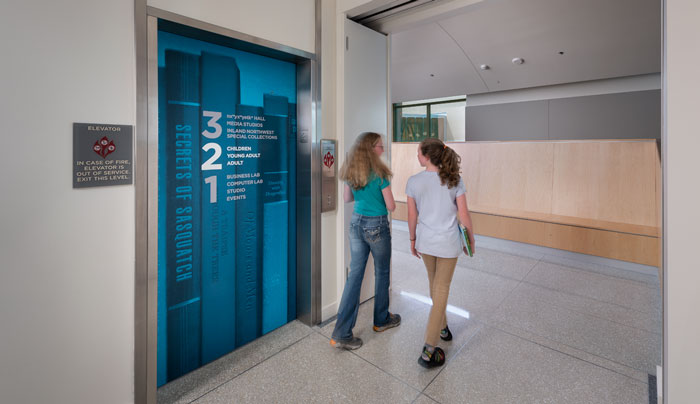 Elevator doors on each floor provide additional wayfinding.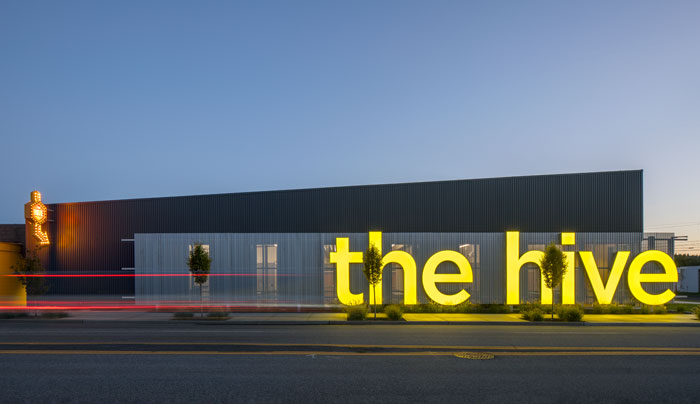 Spokane Public Library and Spokane Public Schools
helveticka partnered with Integrus Architecture on Spokane Public Library's "Imagine the Library of the Future" project, one component of which was the new Hive – a library without books.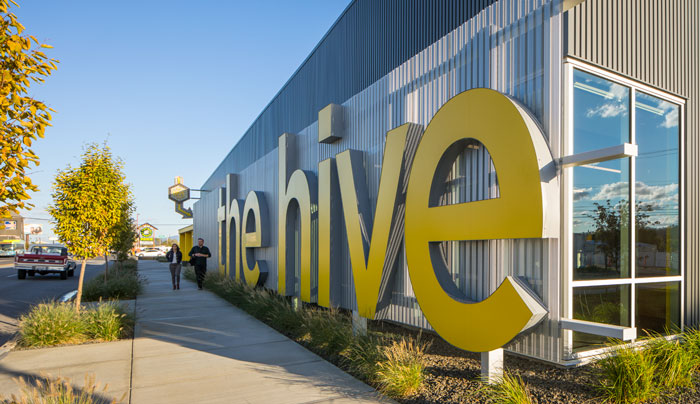 The architectural program called for a large street presence along a busy avenue; the solution was to create an unambiguous identity for the building.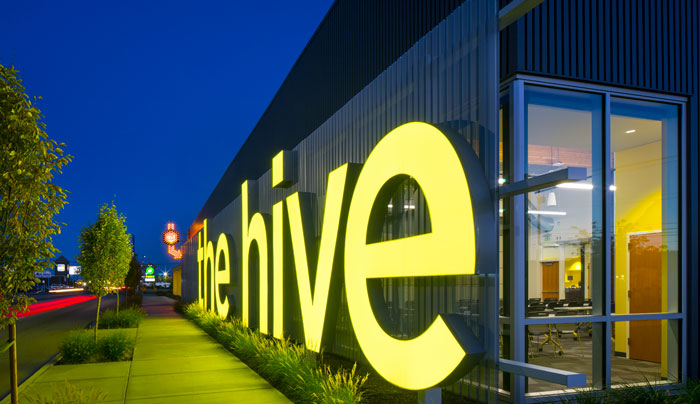 The 12-foot-tall pan-channel letters are internally lit with LEDs.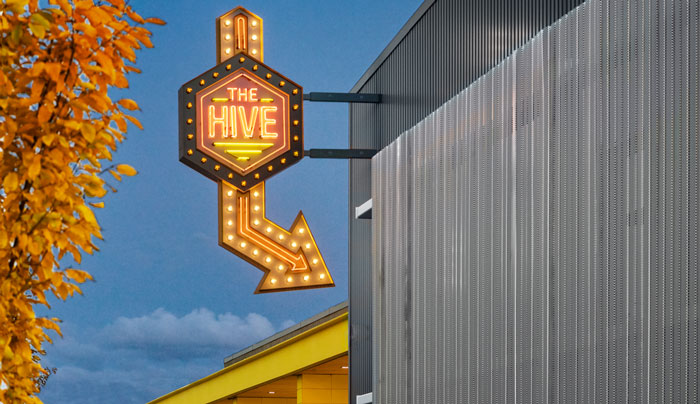 Taking cues from the surrounding post-war commercial neighborhood, a two-sided neon sign signals the building's north entry point.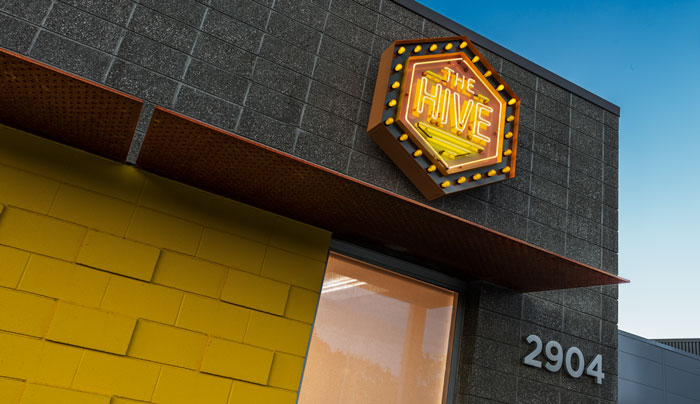 The Hive's hexagon-and-neon theme continues on the south side of the building near the primary entrance.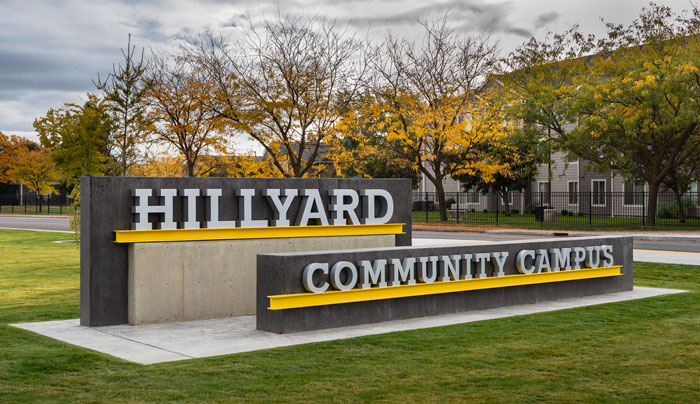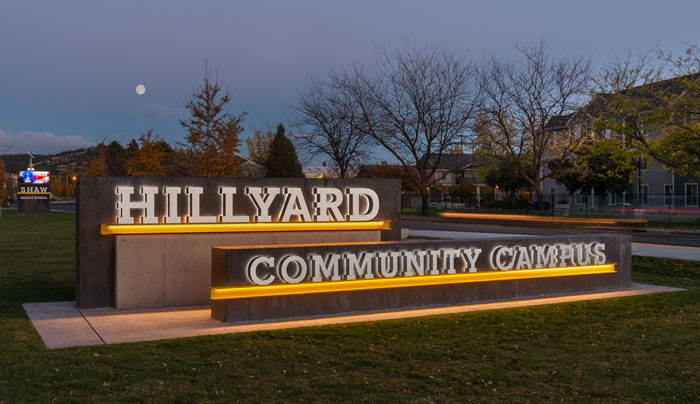 Spokane Public Schools
The Hillyard Community Campus is a shared space for students and community members alike – from young children to senior adults. It's home to Shaw Middle School, On Track Academy, NEWTech Skills Center, Hillyard Library, Northeast Community Center, and Spokane Public Schools facilities office. helveticka collaborated with Integrus Architecture to create a wayfinding system that identifies the campus and guides visitors to their destinations.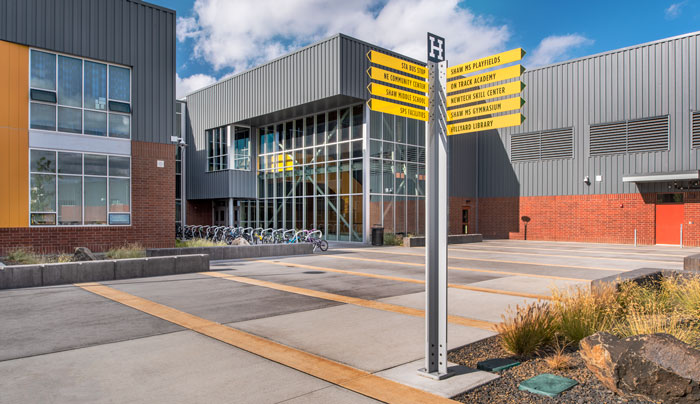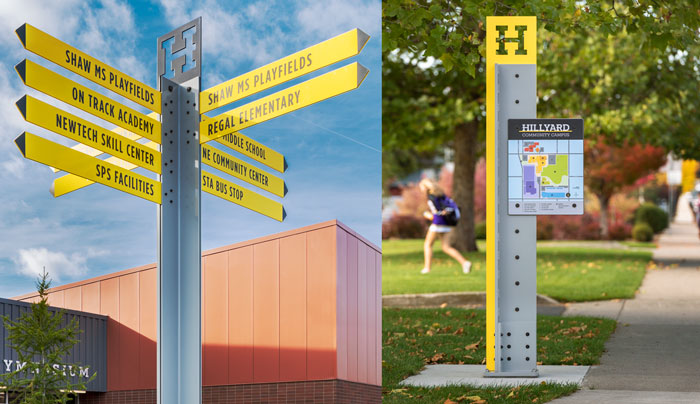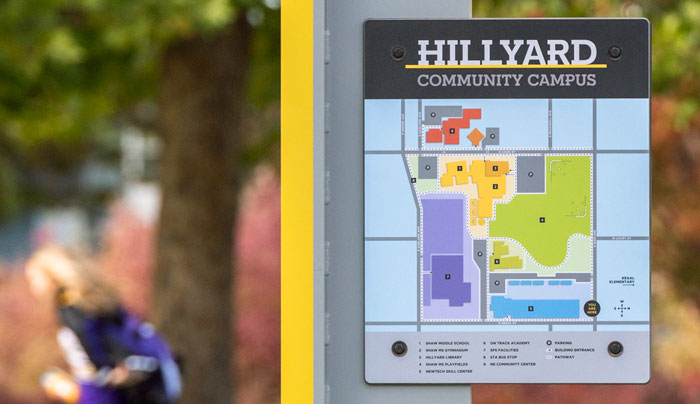 In addition to exterior building signage, digital display, and parking signs, there are freestanding flag and map directional signs placed strategically around the 33-acre campus.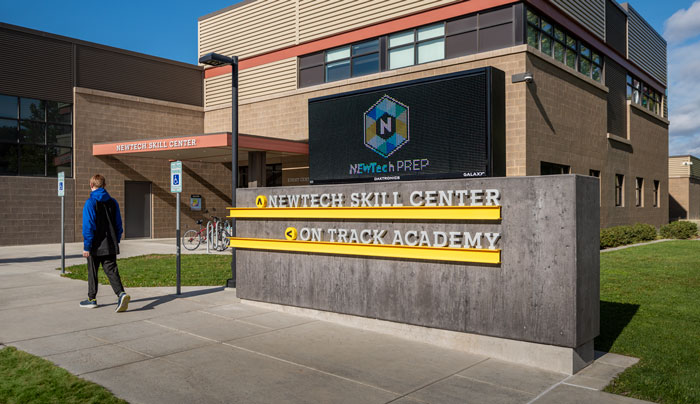 Serving 11 school districts, NEWTech Skills Center offers comprehensive, industry-defined career and technical programs to high school juniors and seniors. As part of the campus upgrades, helveticka designed NEWTech's exterior building signage and monument signs.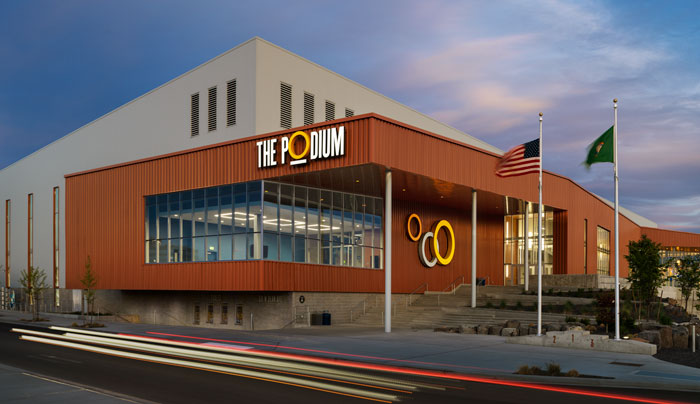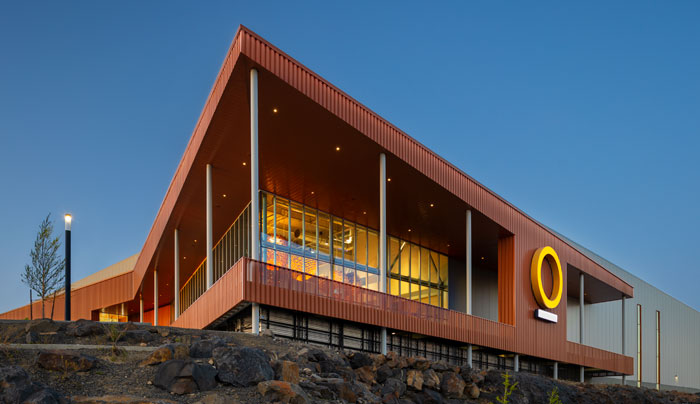 Spokane Public Facilities District
The Podium, designed by Integrus Architecture, is a 4,000-seat multisport venue sited near Spokane's downtown core and adjacent to Riverfront Park – a location that meant directional messaging for foot traffic was just as important as that for automobiles.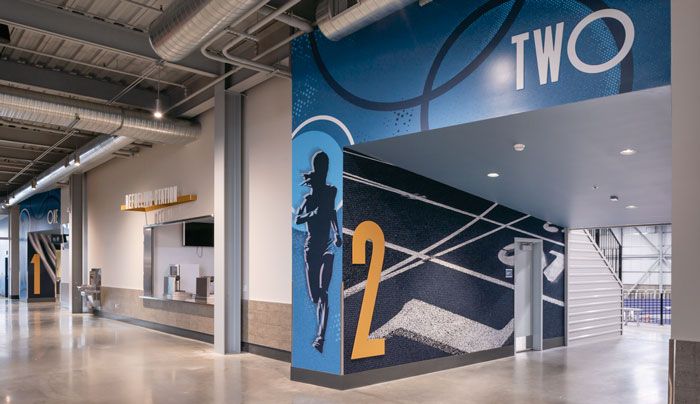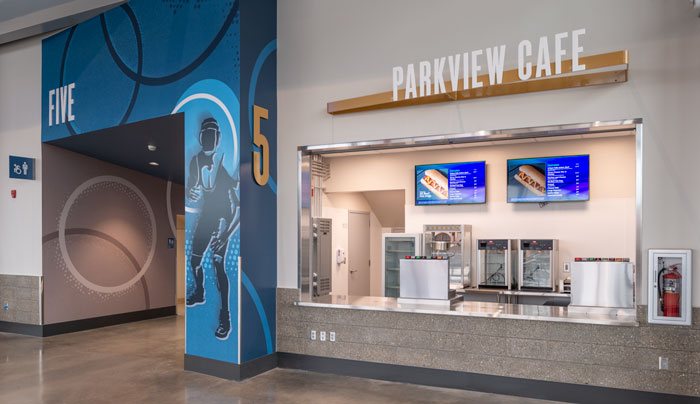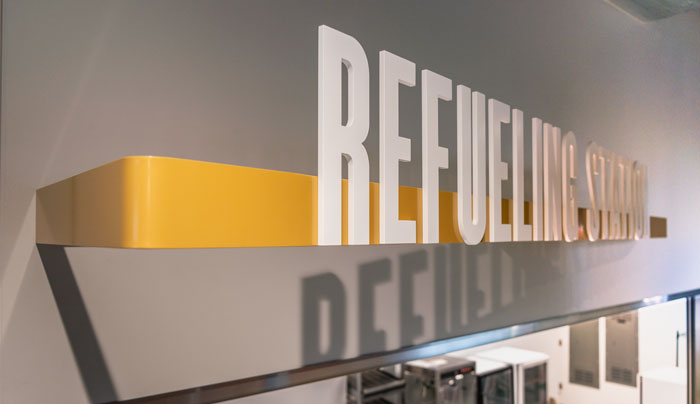 Over a main concourse longer than a football field, signage directs visitors to the field house and concessions.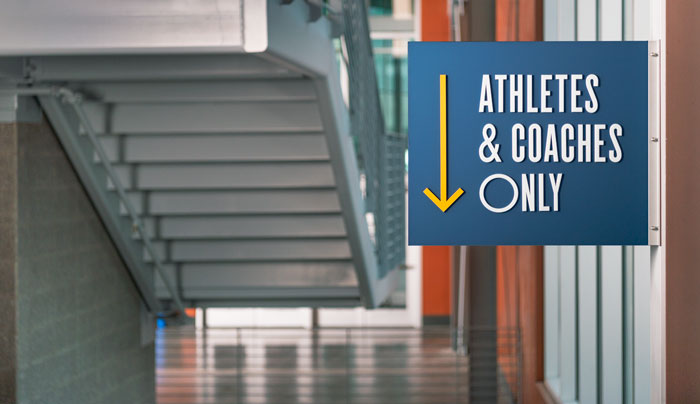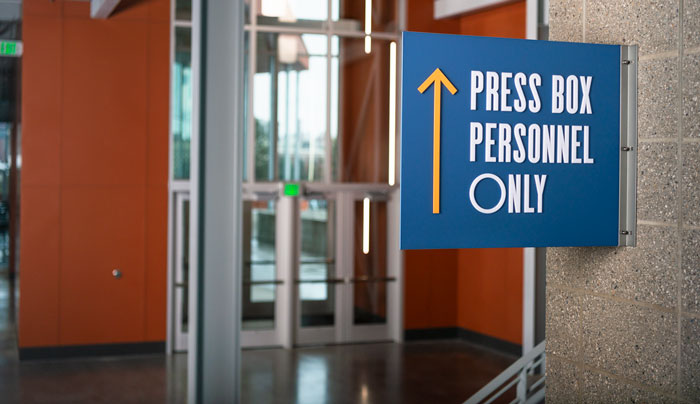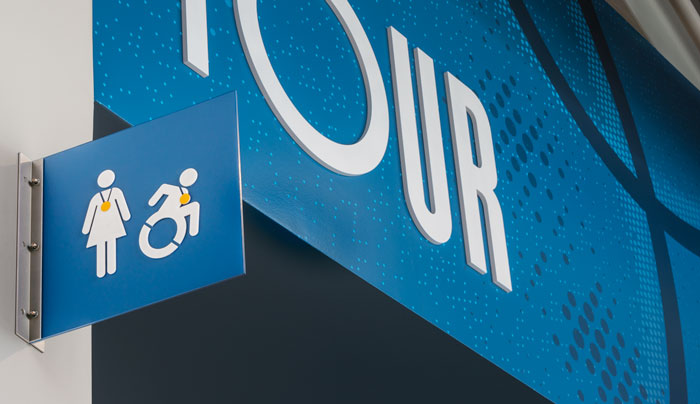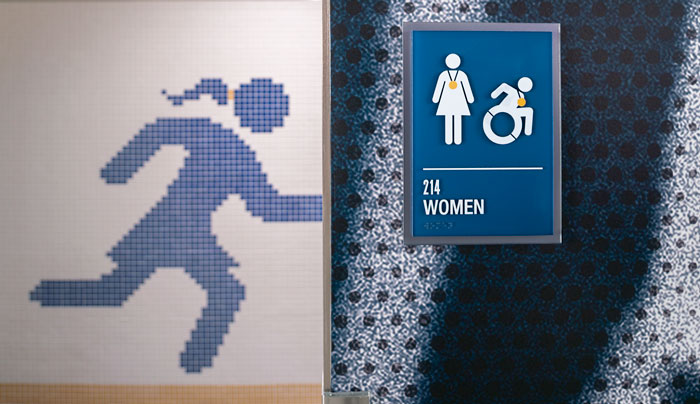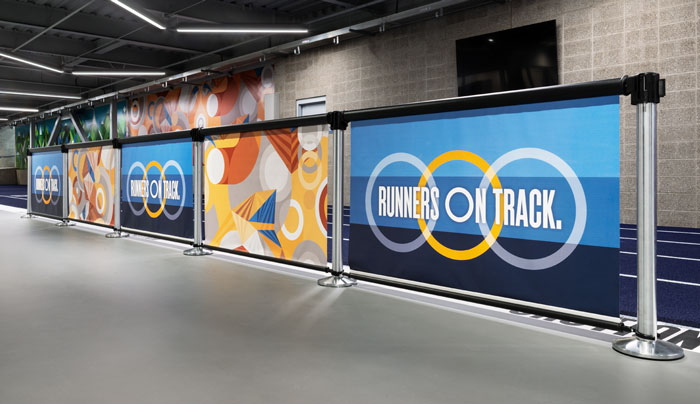 As part of the building's brand identity, wayfinding and ADA signage colors, as well as typography, provide continuity from one sign to the next.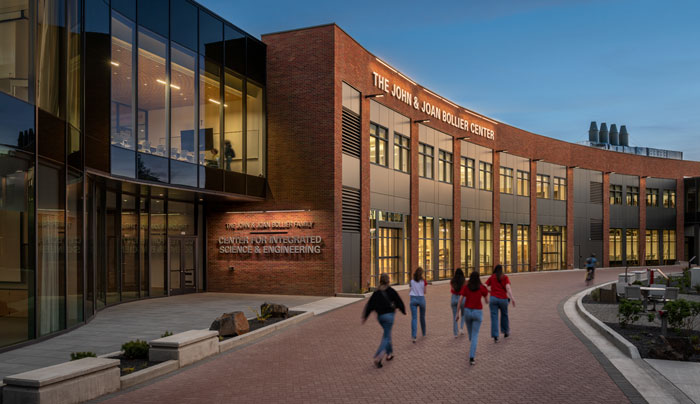 Gonzaga University
In a collaboration with Integrus Architecture and GU's Donor Relations department, helveticka provided design, lighting consulting, and installation services for both exterior and interior signage at the university's new John & Joan Bollier Family Center for Integrated Science & Engineering.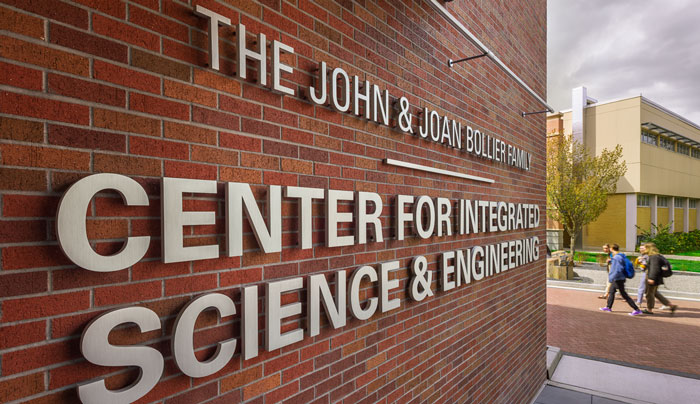 3D aluminum letters signal the building's main entrance.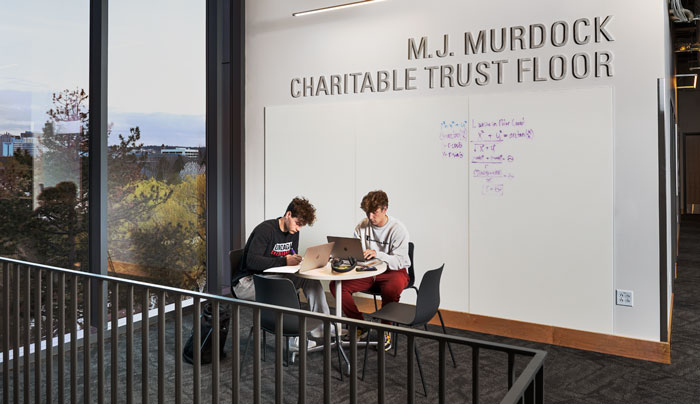 Interior signage included donor-sponsored study areas, classrooms, labs, and faculty offices throughout the three-story, 82,000 SF building.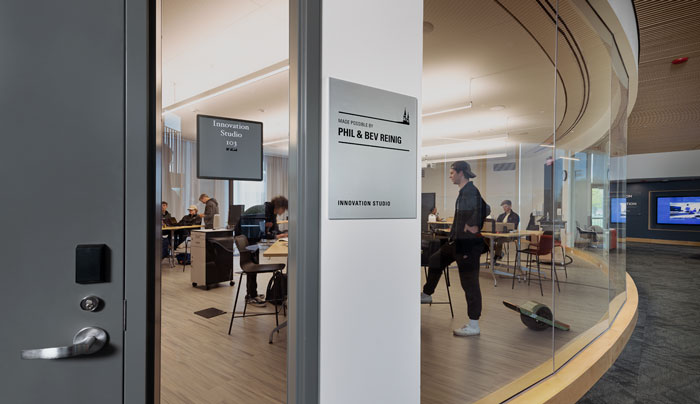 Sign specifications were determined by donor gift amounts.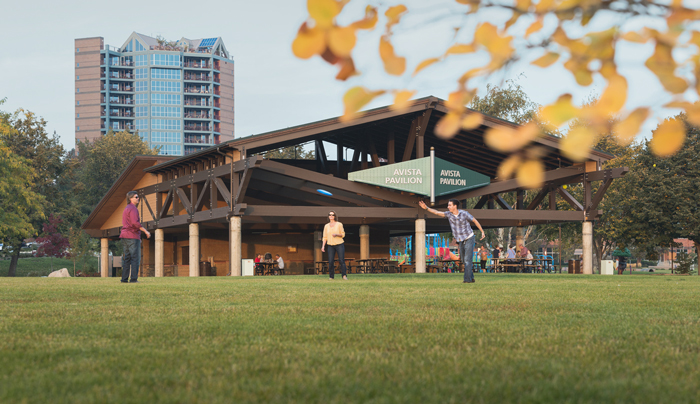 Avista
Funded by Avista, the grand pavilion at Coeur d'Alene's McEuen Park can accommodate up to 200 people and is available for private rental.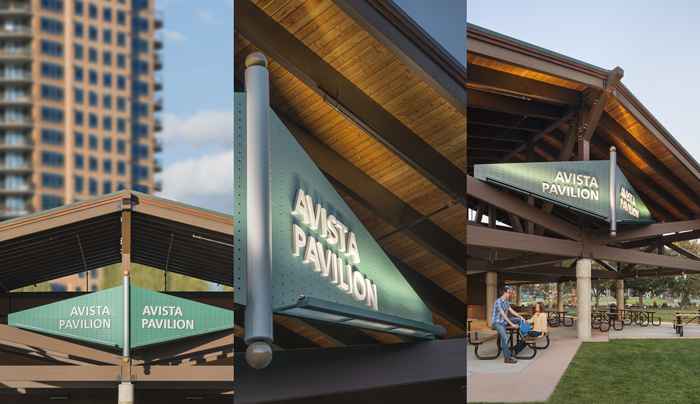 helveticka designed the pavilion's 27' x 8' LED-lit and powder-coated aluminum sign; long-time collaborator Hydrafab Northwest built and installed it.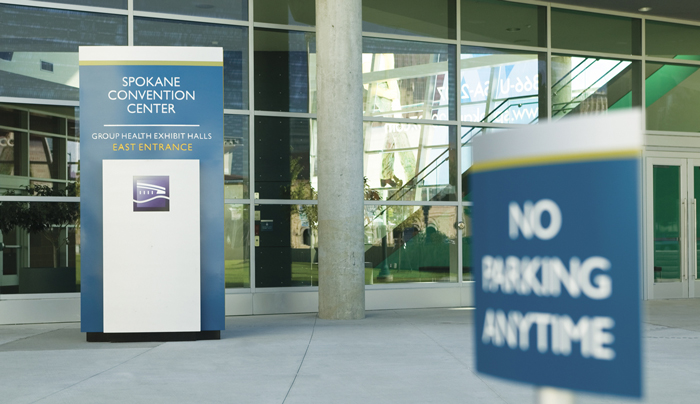 Spokane Public Facilities District
The signage and wayfinding system for Spokane's $89 million Convention Center expansion required more than 600 signs to help visitors find their way around the campus.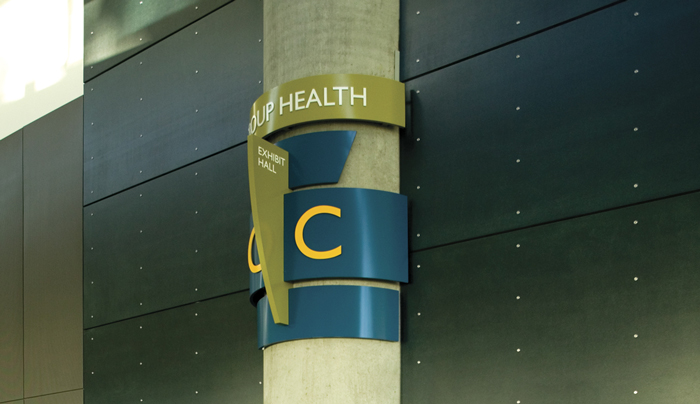 Signage for sponsored exhibit halls is wrapped around existing concrete columns.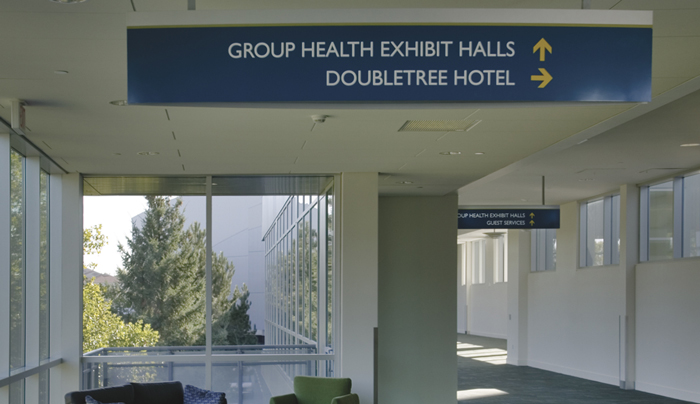 Visitors are oriented at the promenade that joins the original convention center with the recent addition.
back to top
|
<
1
2
3
4
5
6
7
8
9
>
<
>