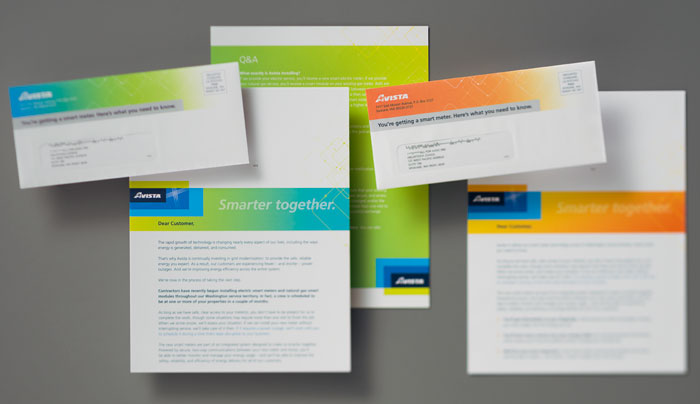 Avista
With Avista about to deploy Advanced Metering Infrastructure (AMI, or smart meters) across its Washington service territory, the company turned to helveticka for help in communicating the process to customers, including notifications sent 60 days (left) and 30 days prior to installation.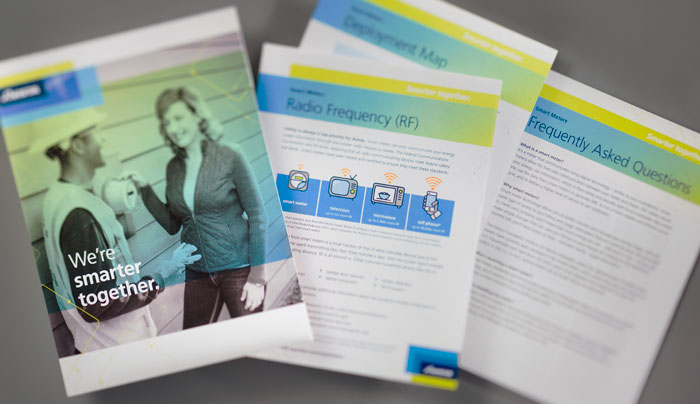 Several one-sheets not only covered topics related to scheduling and benefits, but also addressed concerns and potential misperceptions about the new technology.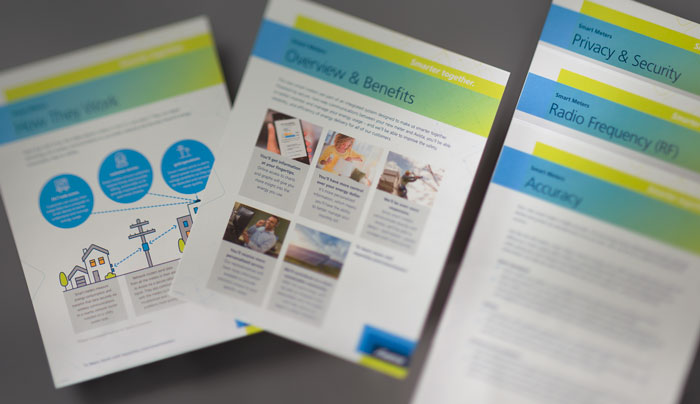 One-sheets were distributed at a number of events and community meetings, as well as being available for download on Avista's website.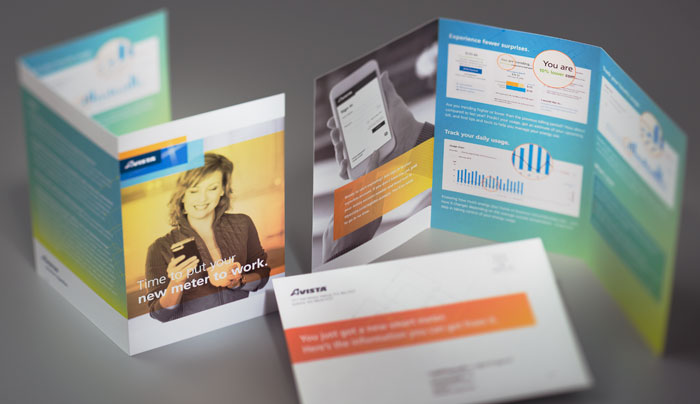 The process began with an oversized informational tri-fold brochure, mailed out 90 days ahead of each customer's scheduled installation.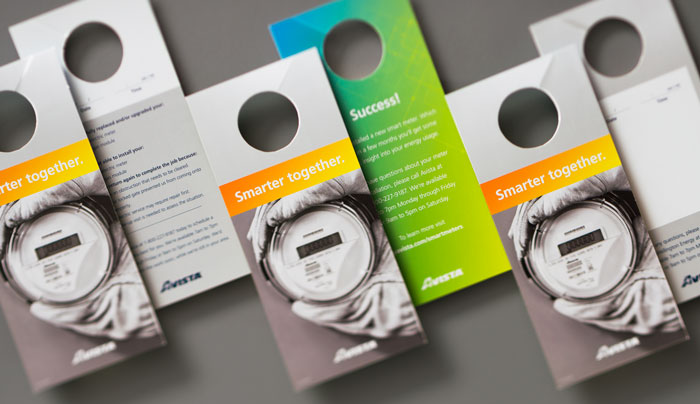 Door hangers let homeowners know either that the installation was a success or that another visit would be necessary.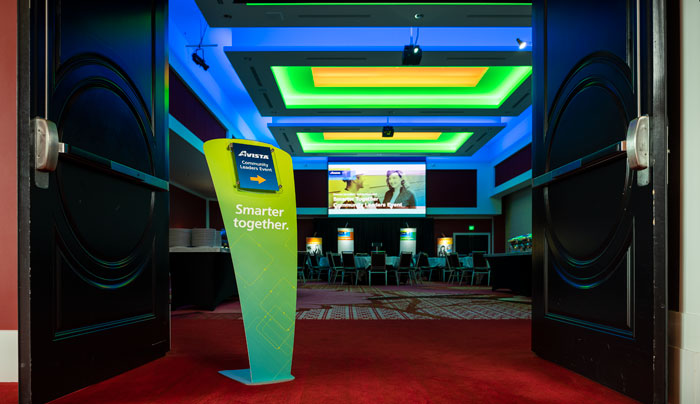 Avista organized a number of events for community leaders and business executives to earn their support for AMI early in the process.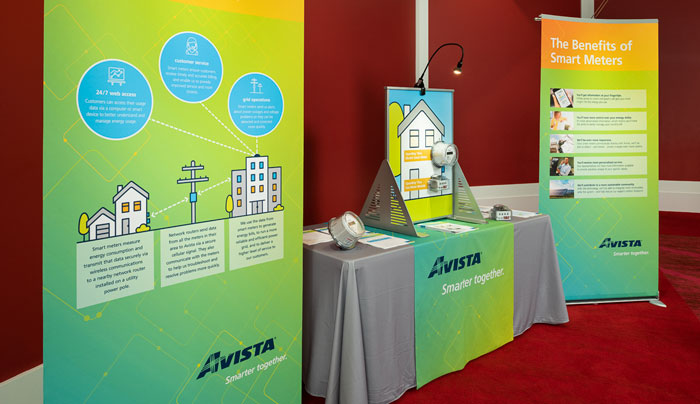 helveticka provided messaging and graphics for the events' portable display elements.
The animated "Why Smart Meters" helps explain how the technology works – and why it's good for both customers and Avista.
"Smarter Together" places the AMI project within the context of Avista's legacy of innovation.
City of Greeley
"myGreeley," a multi-year campaign to promote the northern Colorado community, launched with stories of individuals who not only exemplify the spirit of learning – this year's theme – but also represent the numerous educational opportunities in Greeley.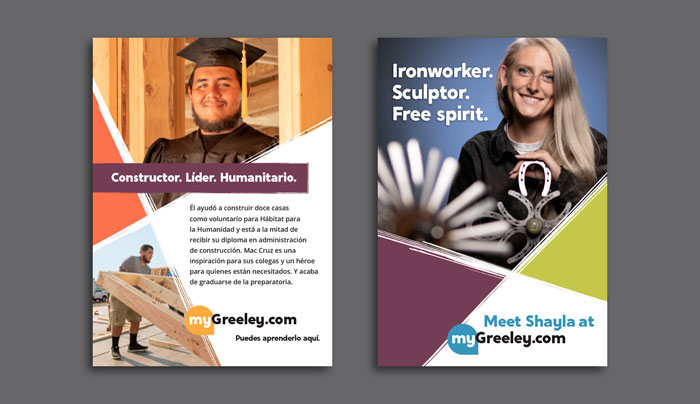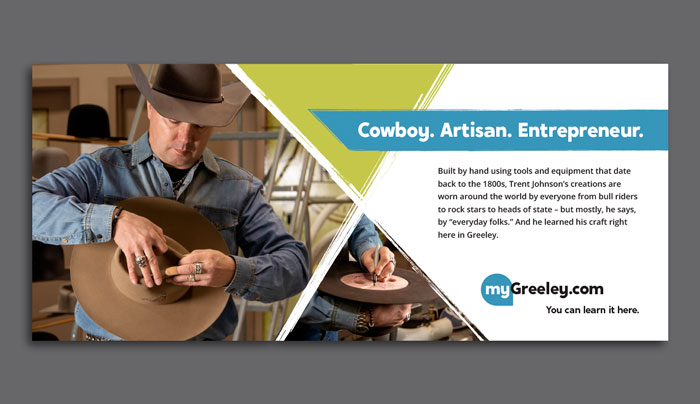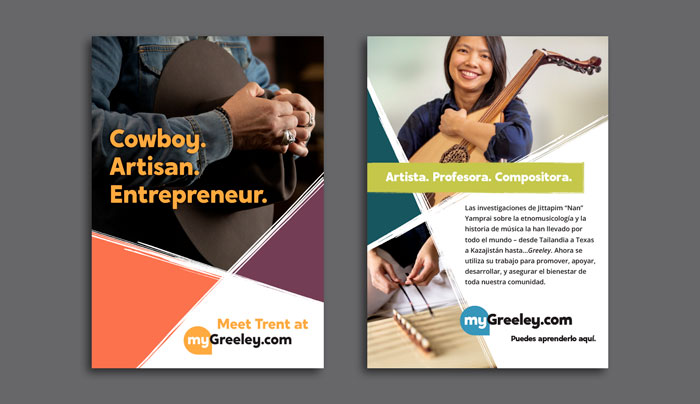 A series of print ads – like all of the campaign elements, translated into Spanish for the city's Hispanic population – introduced Trent Johnson, Jittapim "Nan" Yamprai, Mac Cruz, and Shayla Lamb.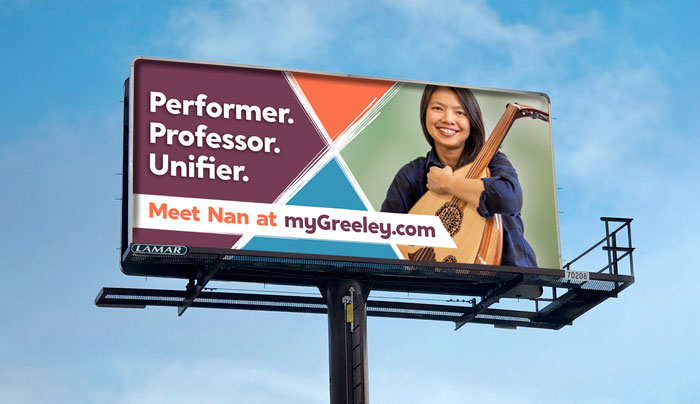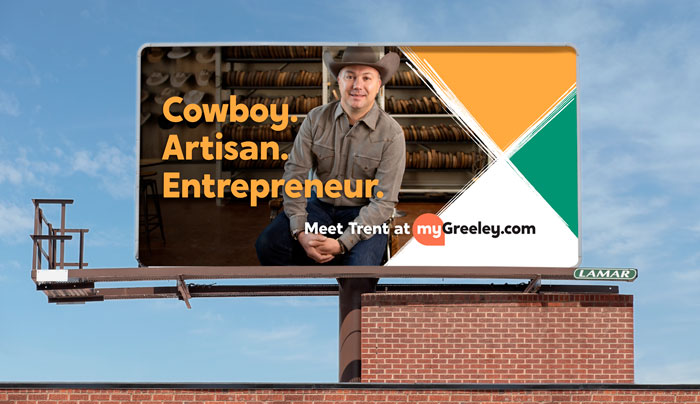 Outdoor boards, which covered both Greeley and the surrounding area, used descriptors to provide some intrigue around each subject – and an invitation to drive viewers to the campaign website.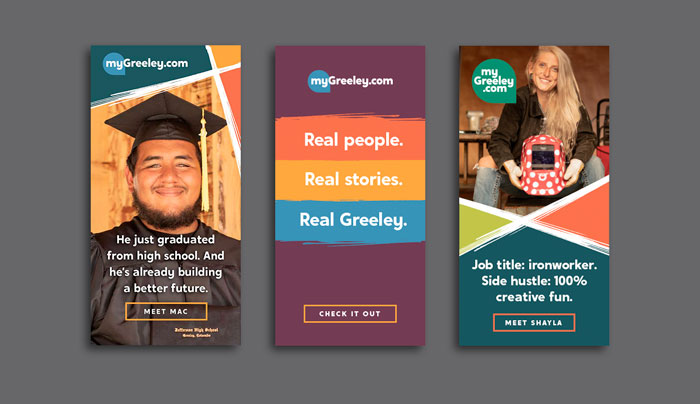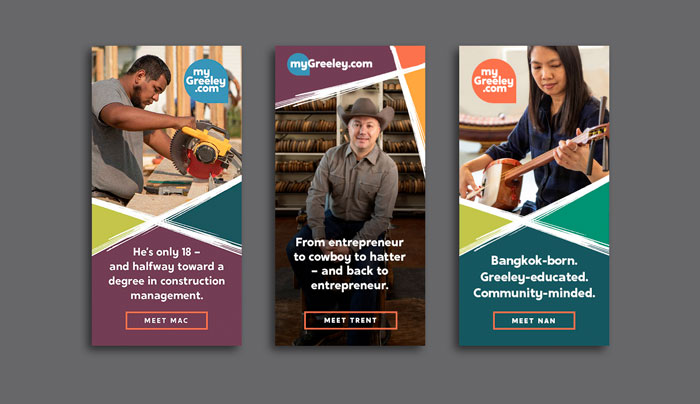 Digital ads were created first to announce the coming of the new campaign, then to highlight each of the featured subjects while enticing viewers to read their full stories on the website. The diversity of topics enabled the targeting of unique audiences based on relevant behaviors and interests.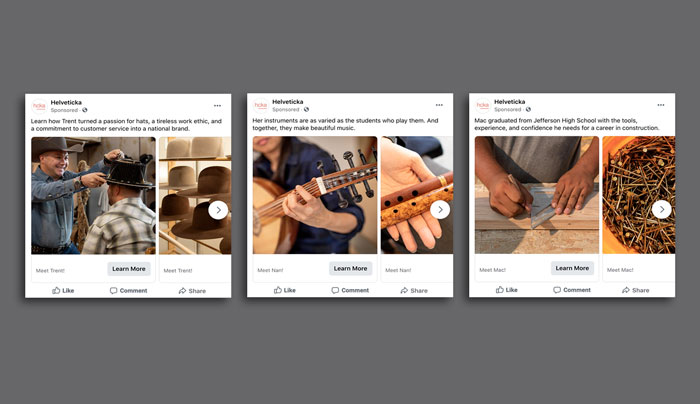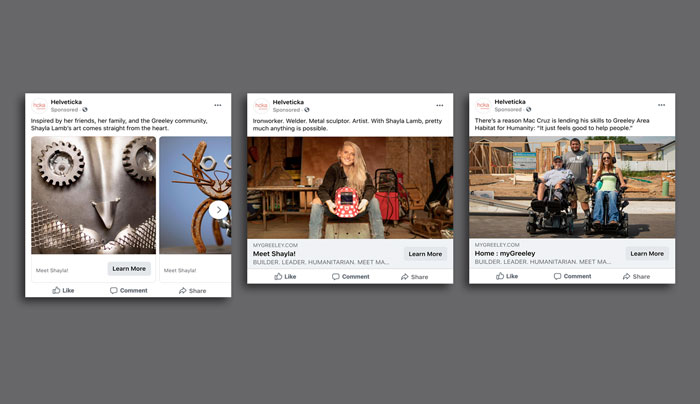 Paid social media posts – on both Facebook and Instagram – emphasized the learning aspect of the campaign, and relied heavily on images from each subject's photo shoot.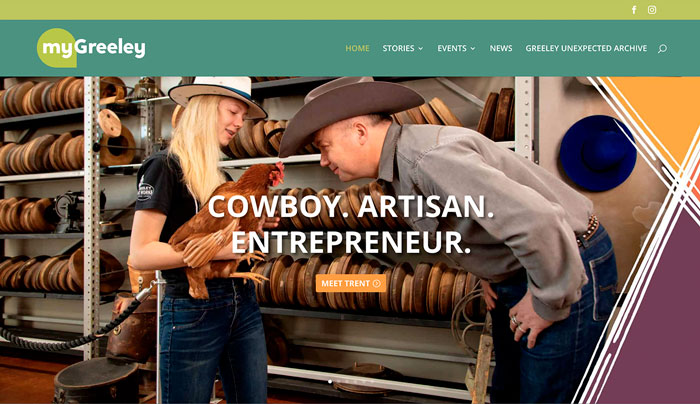 The myGreeley website provides additional information in the form of a complete story for each of the featured subjects, news and upcoming events, and an opportunity for visitors to submit their own stories about why "so many of us have found Greeley to be the perfect place to live, work, and play."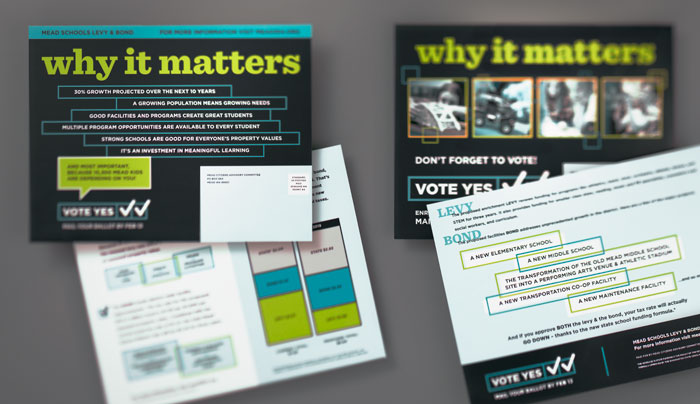 Mead Citizen's Advisory Committee
A campaign for Mead School District's bond and levy used oversized postcards to not only explain the benefits, but also draw a clear distinction between the new $114 million bond and the renewal of the three-year maintenance and operations levy.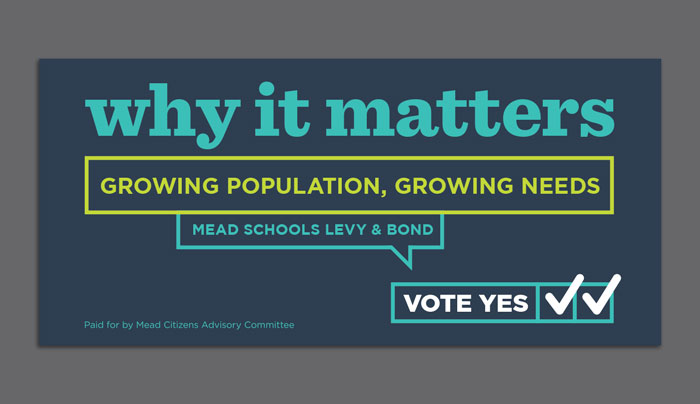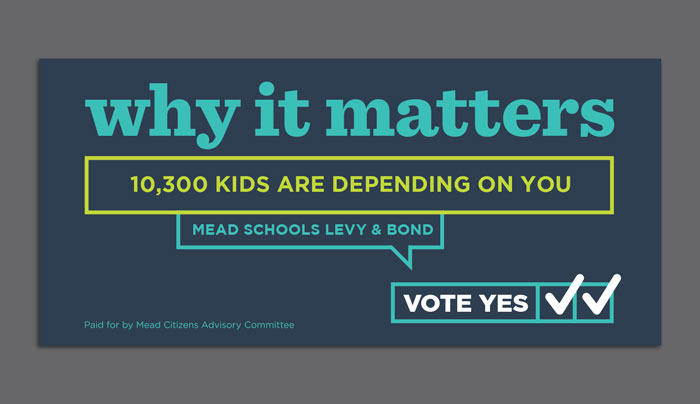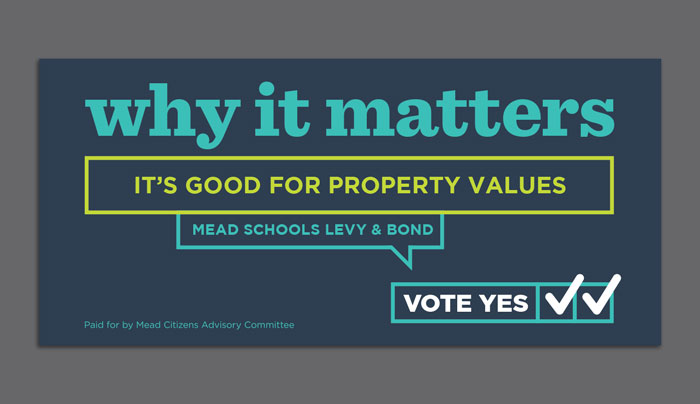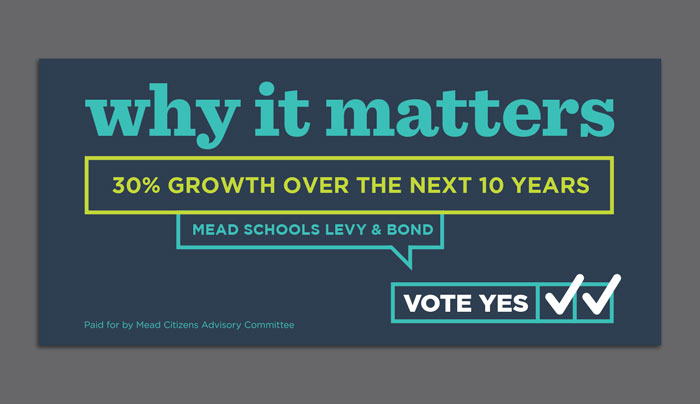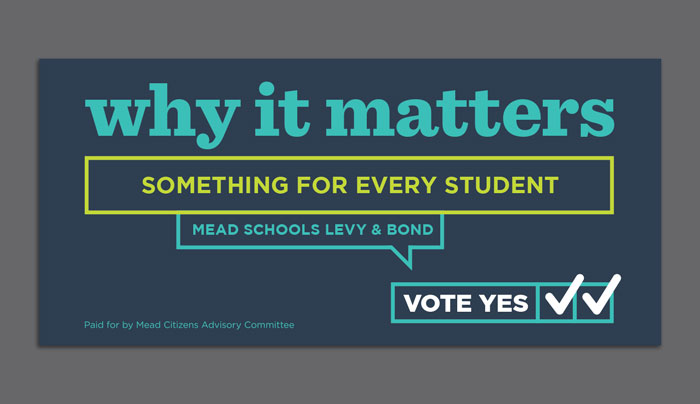 The campaign also featured two billboard concepts, each of which was executed in a set of five. The first employed quick, memorable reminders of the tangible benefits of voting "yes."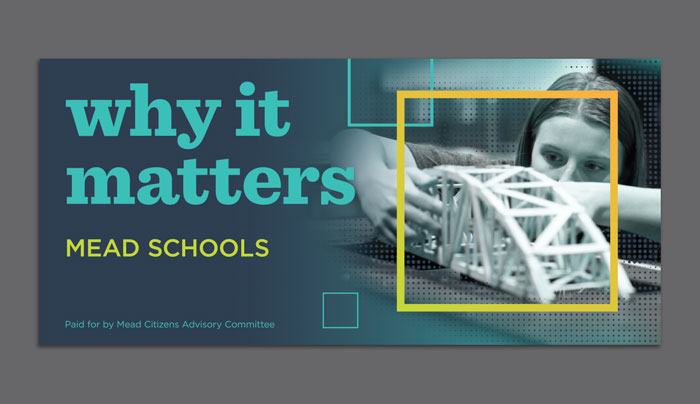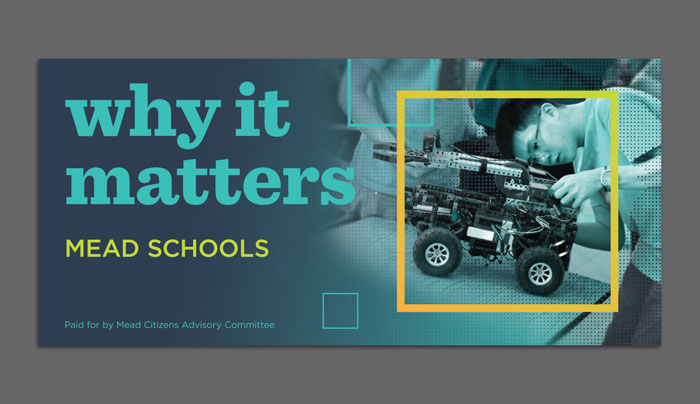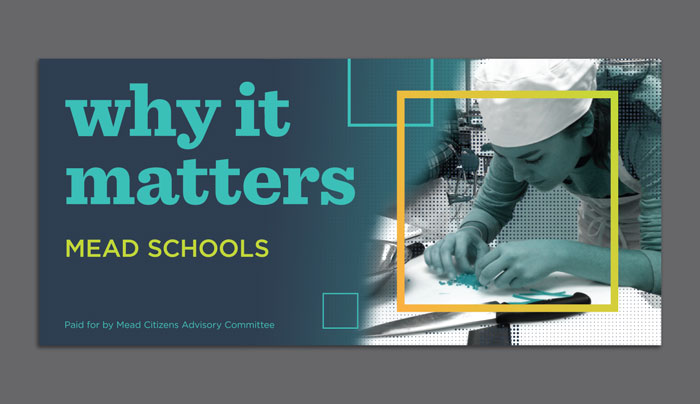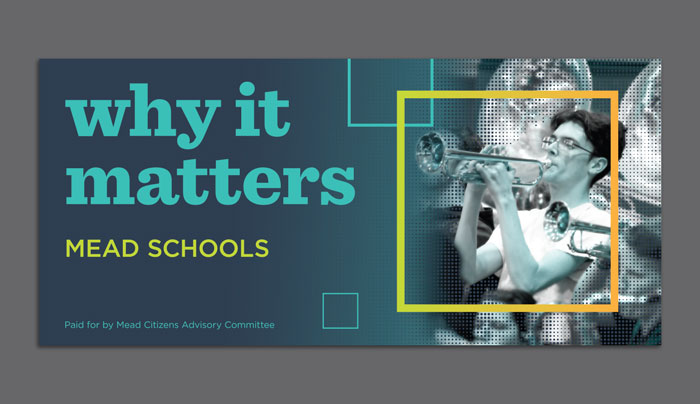 The second billboard set used photography of actual Mead School District students engaged in activities under threat unless the bond and levy passed – a more emotional connection to "why it matters."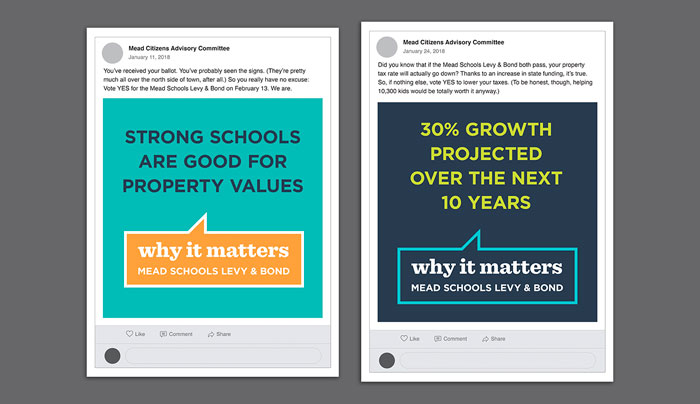 Social media provided more detailed explanations around the issues at stake. helveticka provided the assets, while the MCAC was responsible for posting.
As voting day drew nearer, the social media strategy shifted toward reminding everyone who cared about their kids, their schools, and their community to make a difference. The levy ended up passing with 70% of the vote; the bond, 67%.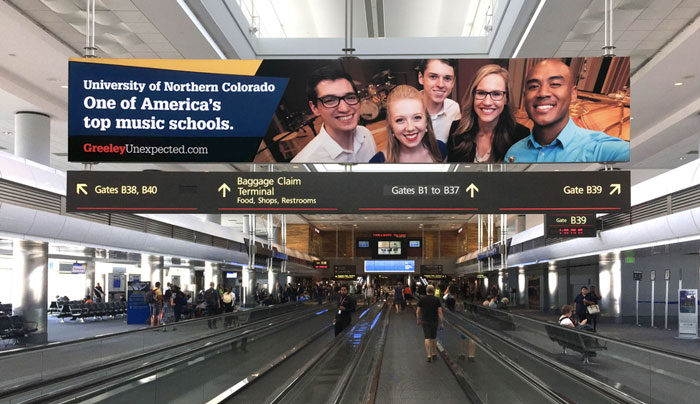 City of Greeley
"Greeley Unexpected," a multi-year awareness campaign named and designed to change decades-old misperceptions while promoting the Colorado city's distinctive vibe, took advantage of a number of communication channels – including this large tension fabric banner in Concourse B at Denver International Airport (DIA).
The national award-winning and Grammy-nominated UNC jazz program was just one of the subjects featured in a regional television buy every year.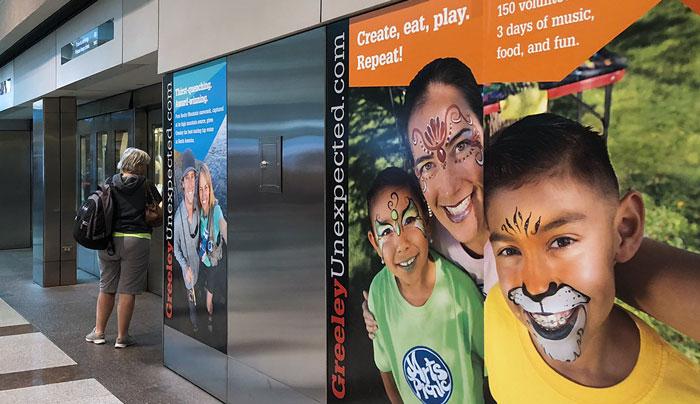 Large-scale graphics featuring Greeley events and attractions were placed in DIA's high-traffic Concourse A and C train terminals.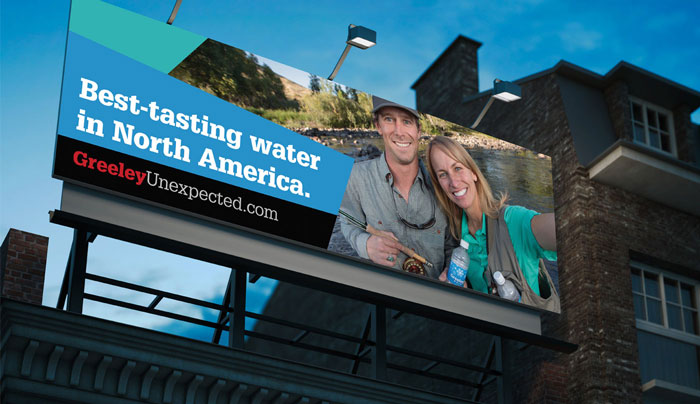 Billboard locations – which, like all of the campaign's elements, pointed readers to a campaign microsite – were purchased throughout northern Colorado.
Whitworth University
In a collaboration with Power Marketing, ILF Media, and Whitworth University, helveticka helped create and launch "Worth It" – a campaign showcasing Whitworth's School of Continuing Studies and extensive graduate programs.
helveticka provided creative development, scripting, and art direction for two :30 television spots.
In addition to exploring new ways to visually express Whitworth's brand – including colors, shapes, and imagery – helveticka wrote and produced a pair of :30 radio spots.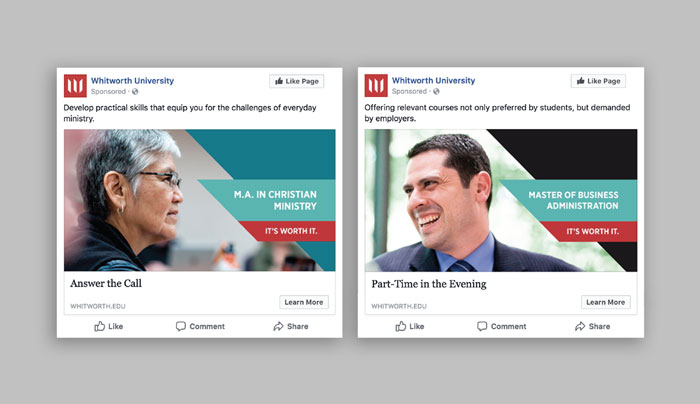 A series of Facebook ads featured Whitworth's graduate programs and its School of Continuing Studies. helveticka provided creative to Power Marketing for placement.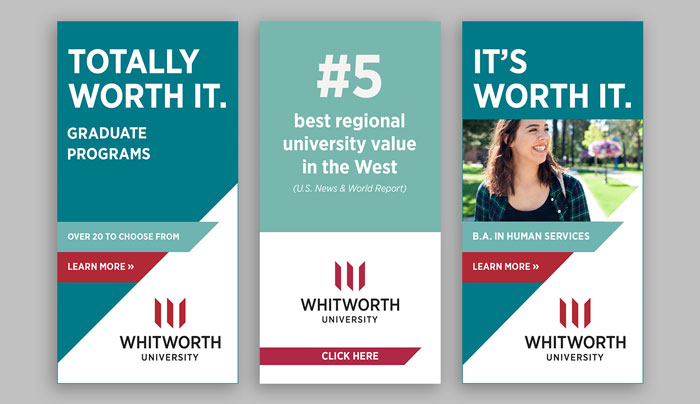 Nine subjects in various formats were developed for digital ads. helveticka was responsible for design and messaging; Power Marketing handled placement, management, and analytics.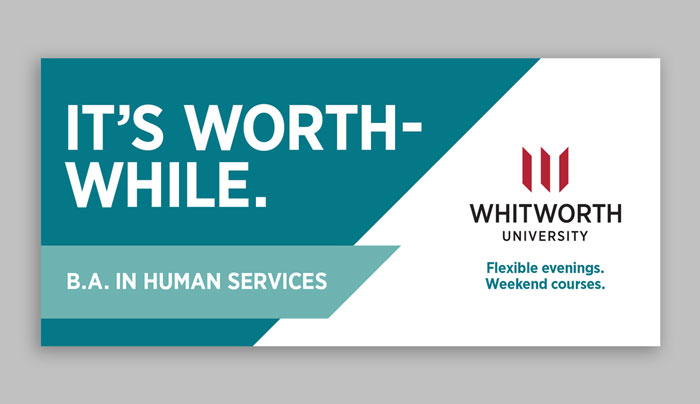 helveticka developed design and messaging templates for Whitworth's in-house design department to implement on a series of outdoor boards.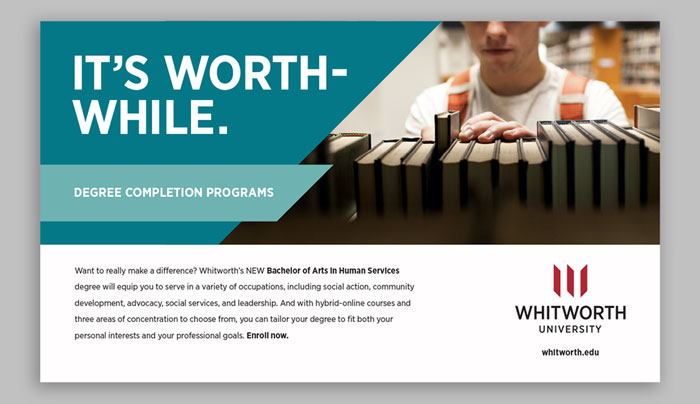 Whitworth's in-house design department also handled implementation of the print ads, based on a template developed by helveticka.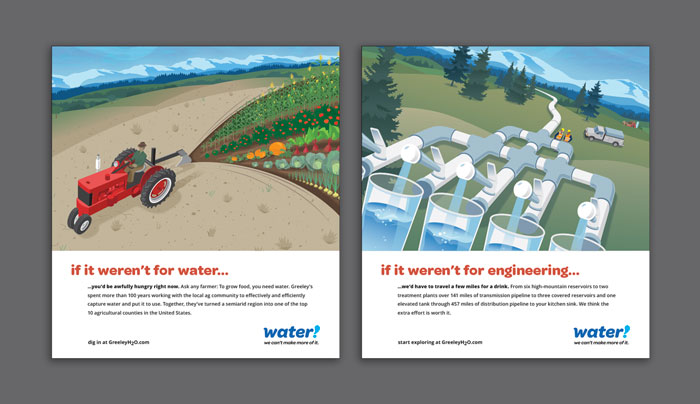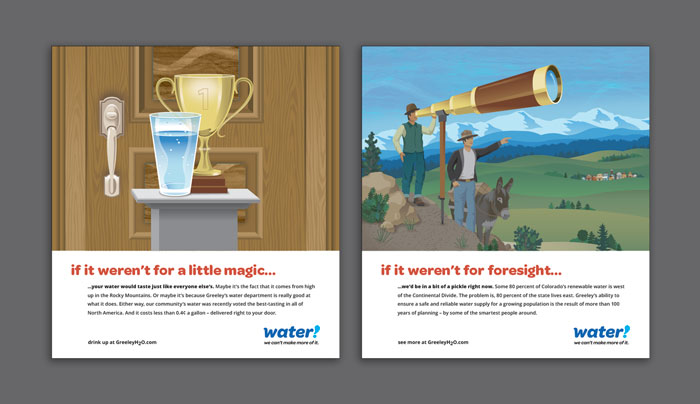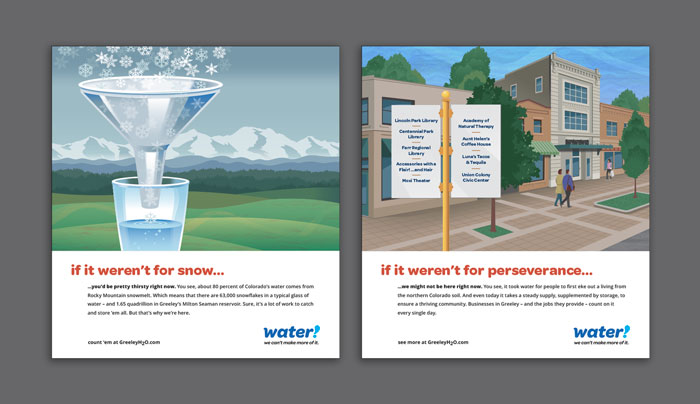 City of Greeley
A multi-year, three-phase education campaign for the City of Greeley, Colorado – touting both the importance of water and the city's role in its stewardship – included a series of themed print ads placed in regional newspapers and magazines. Hispanic versions were also created.
A 30-second animated TV commercial, which aired on broadcast networks and cable, reminded viewers where their water comes from – and the engineering it takes to get it into their homes.
A pair of 15-second animated TV commercials aimed at helping northern Coloradans appreciate what it takes to deliver fresh-tasting water right to their doors.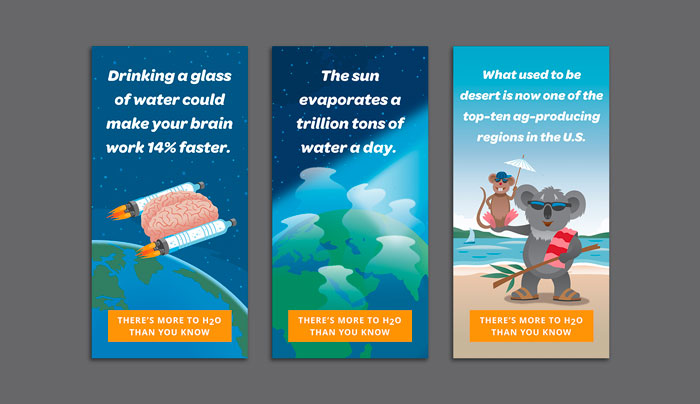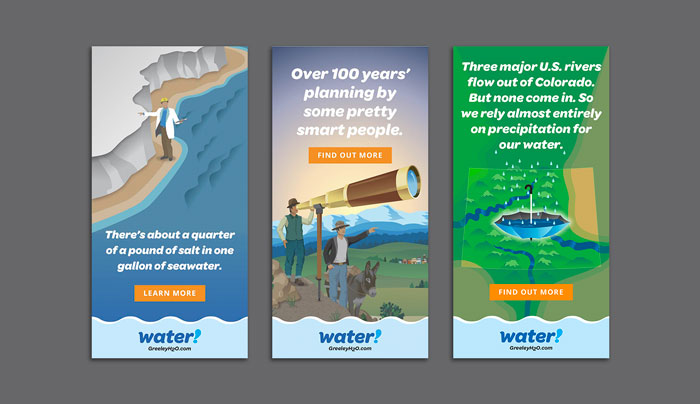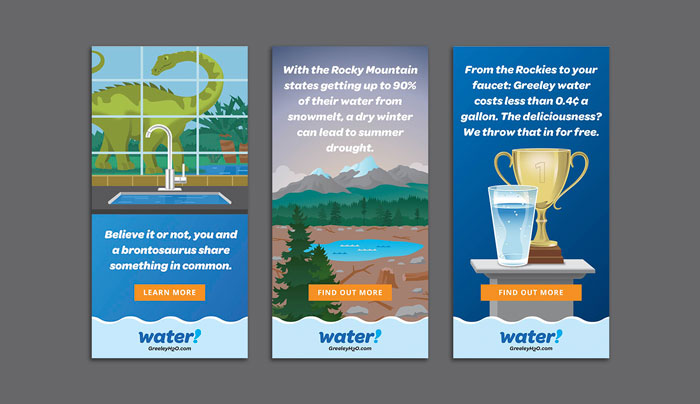 The campaign also included targeting digital advertising designed to drive viewers to GreeleyH2O.com. Placed on multiple platforms, including YouTube and sponsored Facebook posts, the ads resulted in approximately one million impressions per month.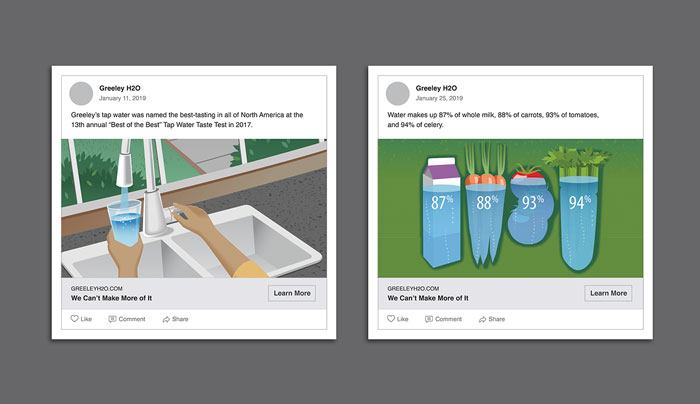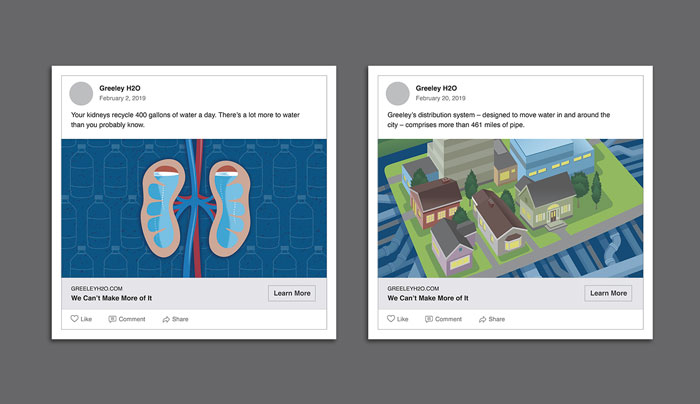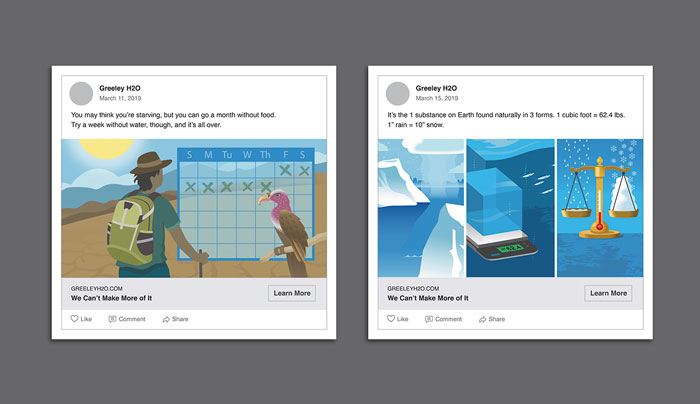 The assets created for the campaign served a number of purposes, including organic social media posts for Facebook, Instagram, and Twitter.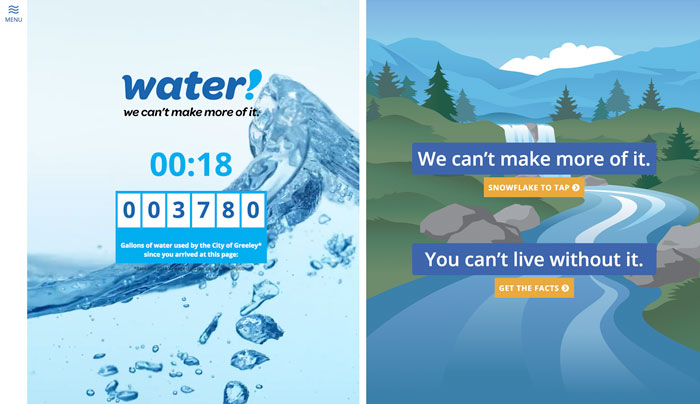 In addition to reinforcing the messaging seen on television and in print and online ads, the campaign website provides more in-depth information about water, its importance in our everyday lives, and Greeley's management of this precious natural resource.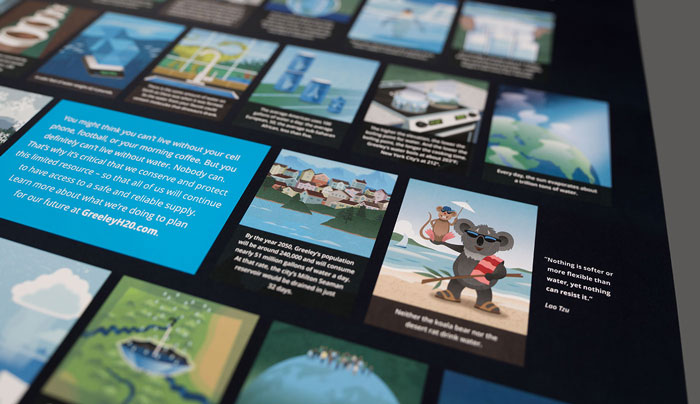 A custom poster, which features custom art illustrating 50 water facts, is one of three "freebies" available at GreeleyH2O.com.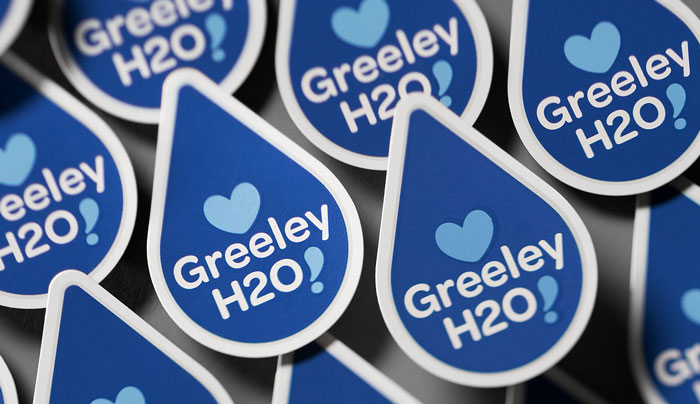 Static window clings enable drivers and business owners alike to show their support for the city and its history of water stewardship.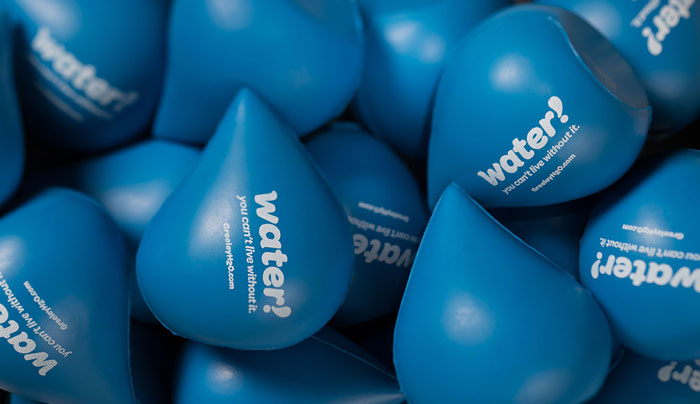 Branded stress balls, in the shape of water drops, promote the Phase 1 campaign tagline: "Water! You can't live without it."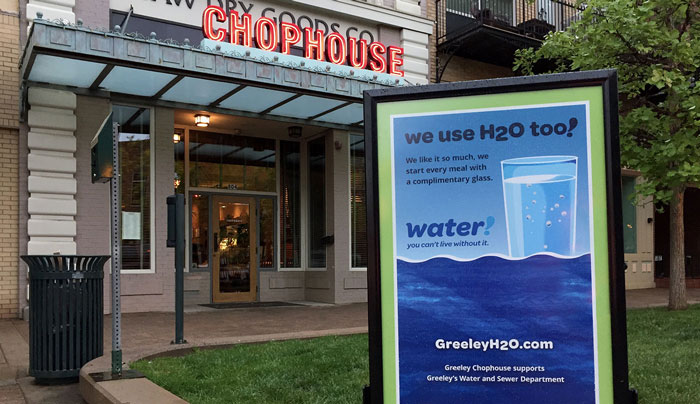 By lending support to the campaign, local businesses are featured on the website and on customer-facing signage.
Avista
Three 30-second TV spots served as part of an ongoing campaign to encourage Avista customers to take advantage of energy-efficiency tips and rebates. The campaign theme, "Way to Save," was also developed by helveticka.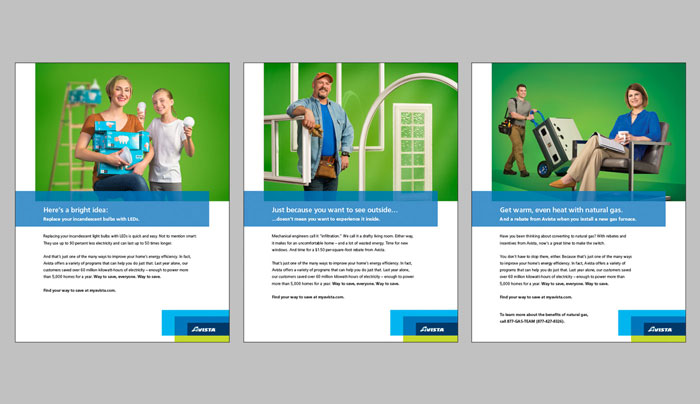 Print ads highlight a number of ways to save, from making simple, inexpensive changes to adding home improvements.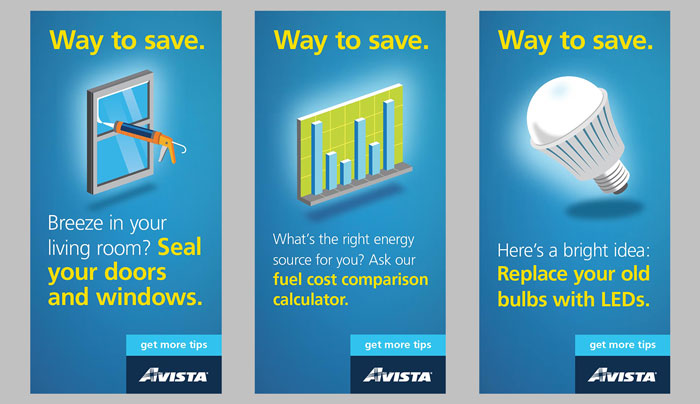 A series of online ads provided viewers with energy-saving tips, as well as information on rebates that help offset the costs of higher-efficiency equipment.
A pair of 30-second radio spots provided examples of ways Avista customers could save energy – and the effect such savings have already had.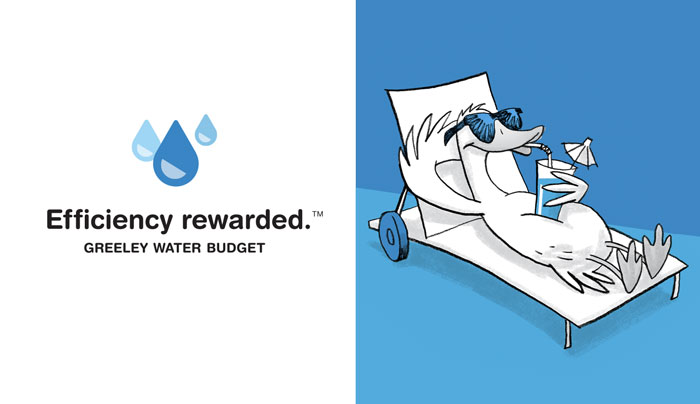 City of Greeley
As part of a strategy to communicate the new Greeley Water Budget, helveticka created a theme and logo, along with a friendly, light-hearted illustration style.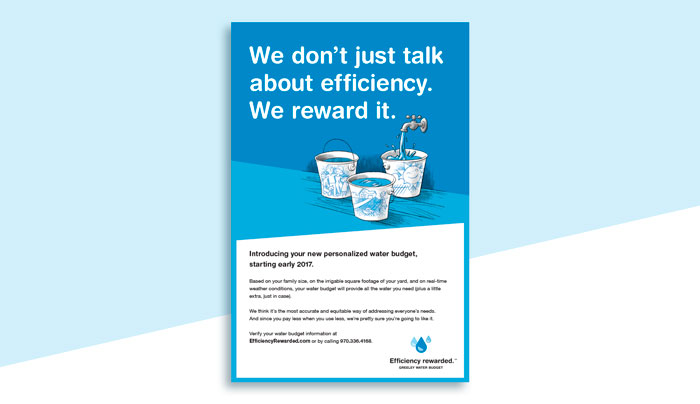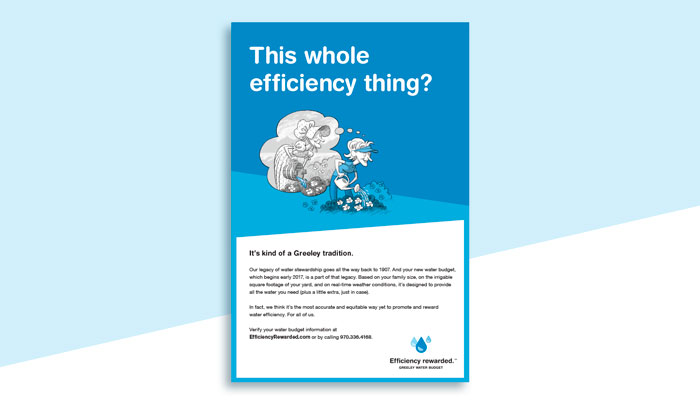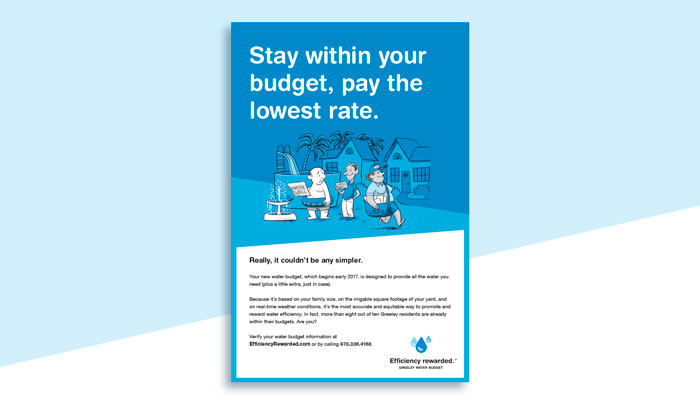 A series of print ads helped customers understand what was about to happen, why it was happening, and how it would affect them.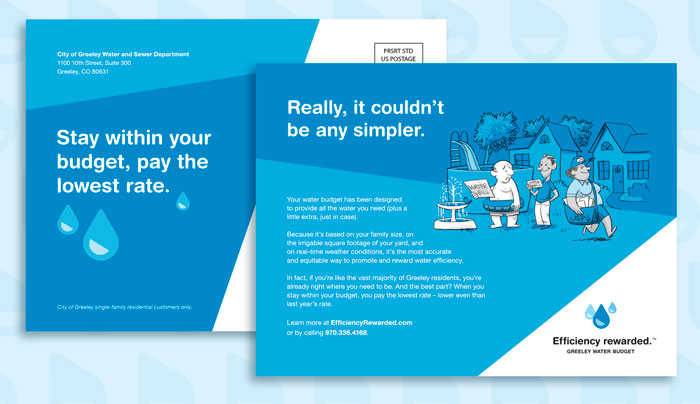 Direct mail post cards highlighted the new billing parameters based on three primary measurements: family size, irrigable yard area, and real-time weather conditions.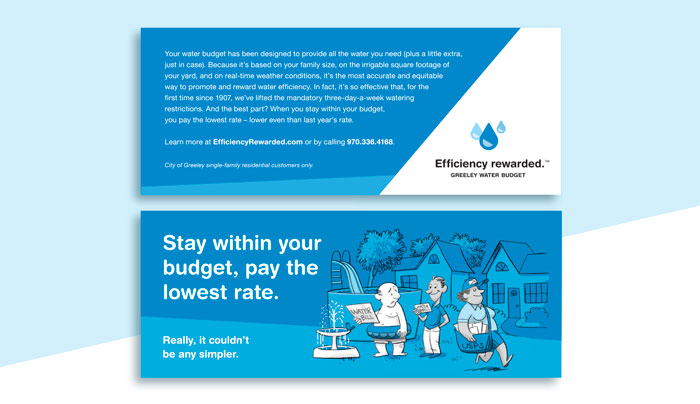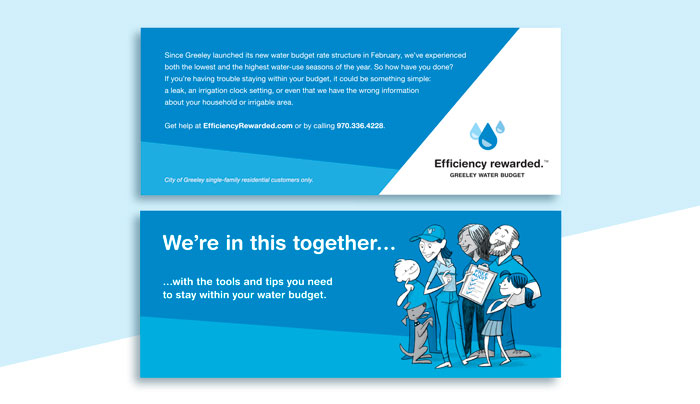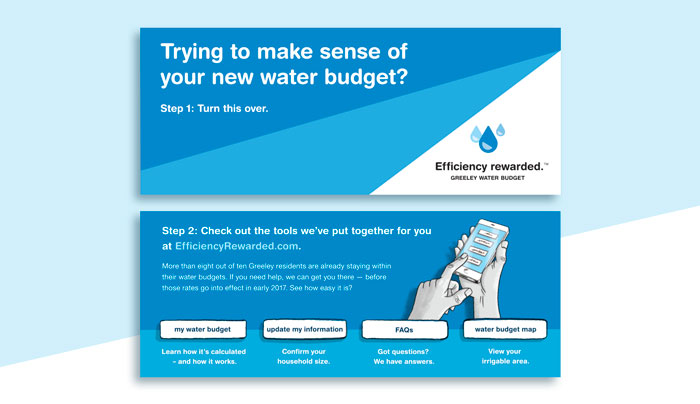 Bill stuffers served as reminders of the new tiered-rate billing system based on household usage and provided Greeley's residents with customer service numbers and how to find more specific information.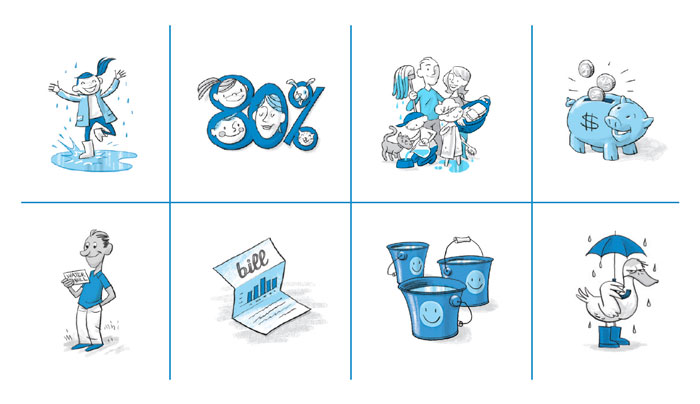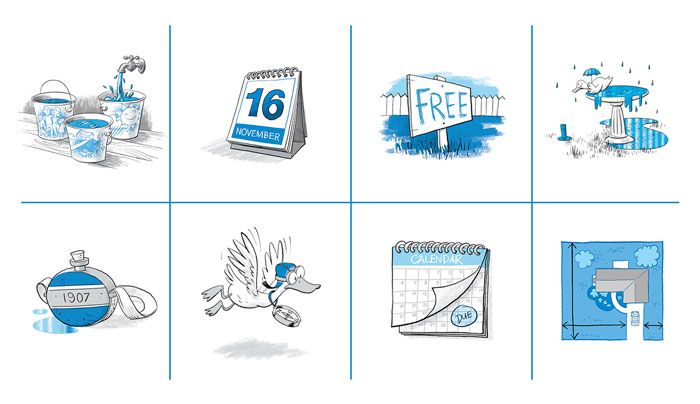 Social media assets, along with messaging, were created for both print materials and the city's existing social media channels.
Avista
Focusing on Avista's commitment to green power and environmental sustainability, this :30 TV spot is narrated by celebrated opera singer Thomas Hampson.
Recognizing that most people don't think about where energy comes from, this :30 TV spot sets out to remind Avista customers of the magic behind turning natural resources into something that powers their lives.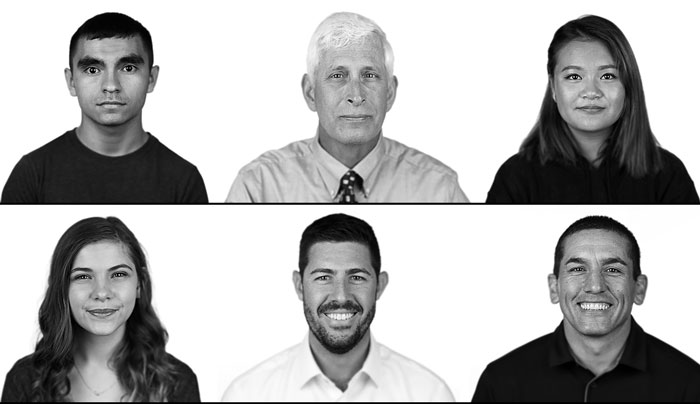 Weld County School District 6 (Greeley, CO)
The intent of this social media campaign was to humanize the school district through honest, straightforward portraits by local photographer Erik Stenbakken.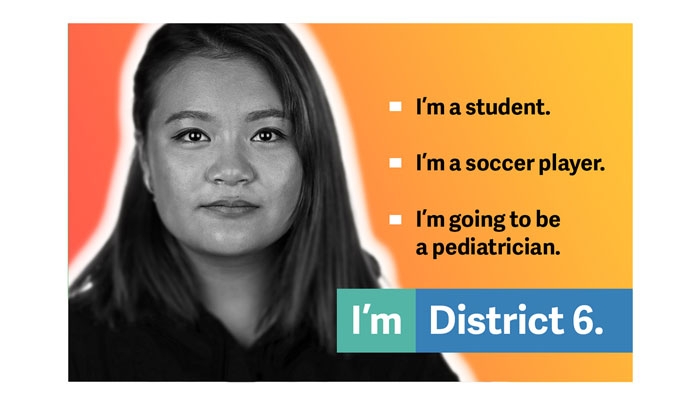 Each subject was interviewed, which provided material for quick facts on the social posts and lengthier stories on the district's website. That process also yielded the campaign's theme.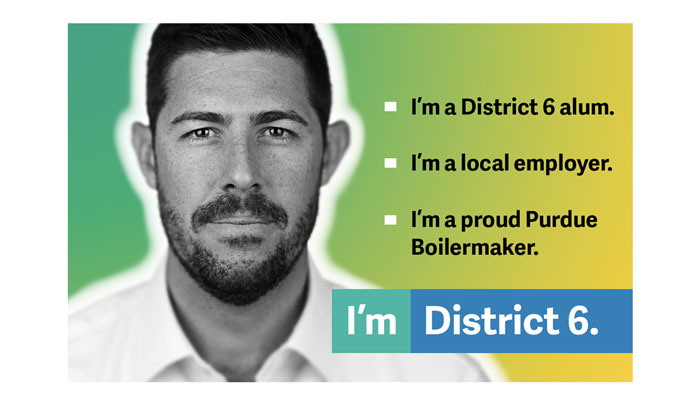 Subjects included students, staff (current and retired), and alumni, each of whom was photographed through an entire range of facial expressions.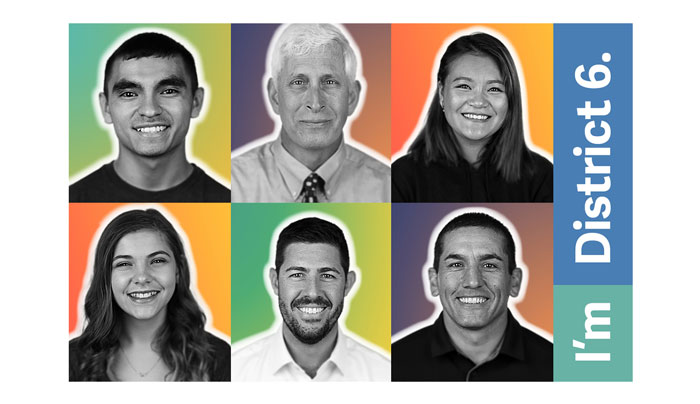 Variations of social media posts were created, including individual and multiple subjects. Bold colors add personality and vibrancy, offering a nice contrast with the black and white photography.
back to top
|
<
1
2
3
4
5
6
7
8
9
10
>
<
>