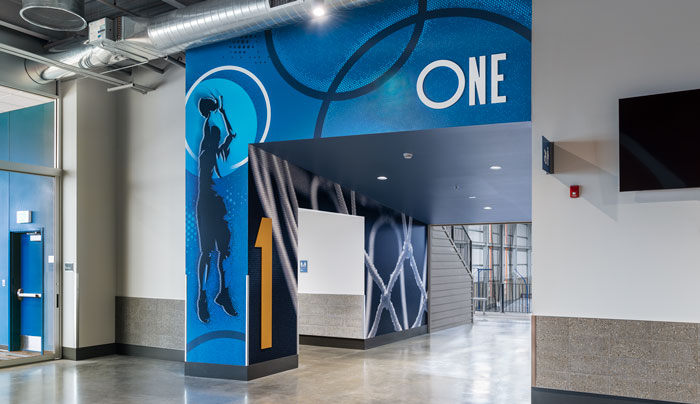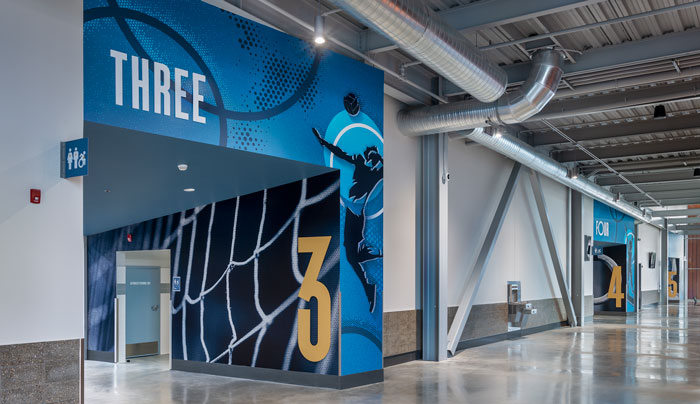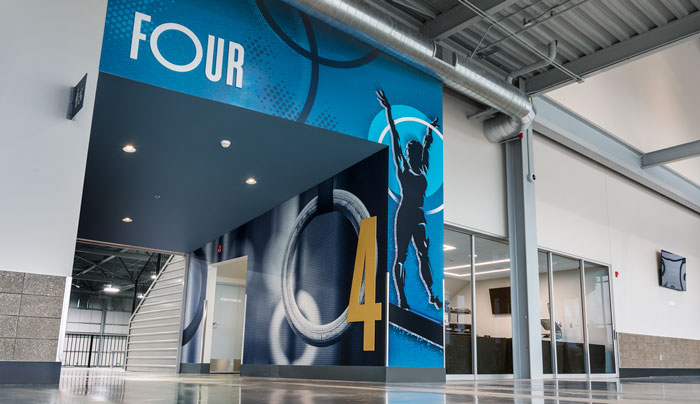 Spokane Public Facilities District
Featuring one of only a dozen 200-meter banked tracks in the U.S., The Podium, designed by Integrus Architecture, is a 135,000 SF multisport venue designed to showcase 16 different sports. Five vomitories lead visitors from the main concourse to the seating area within the field house.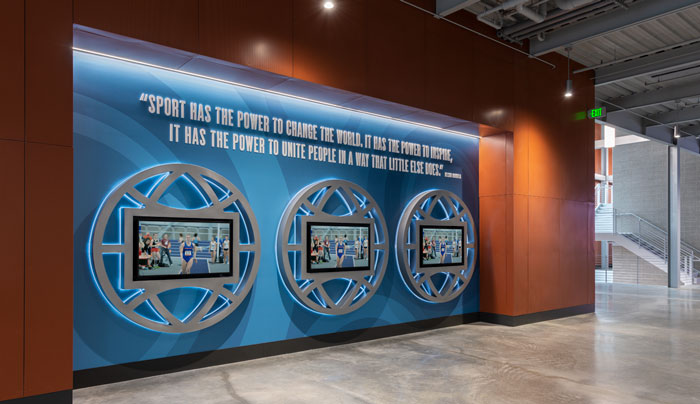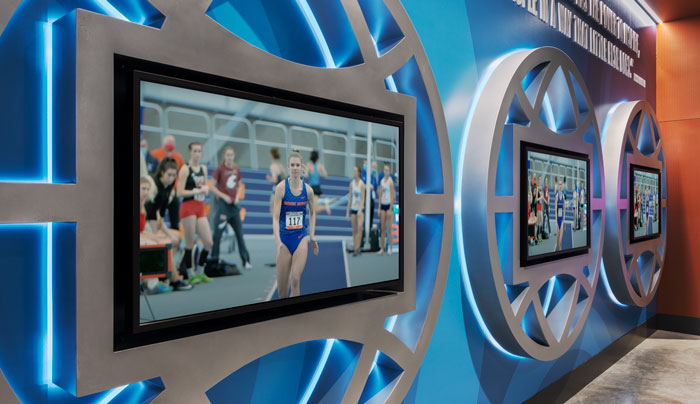 Touchscreens placed within 8' globes backlit with LED lighting enable visitors to view live action, event information, and facility records.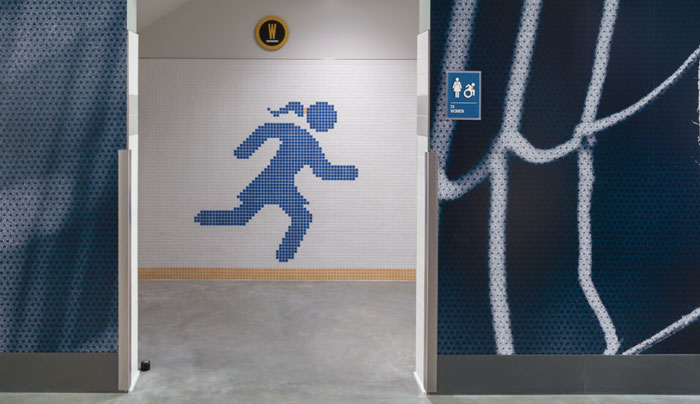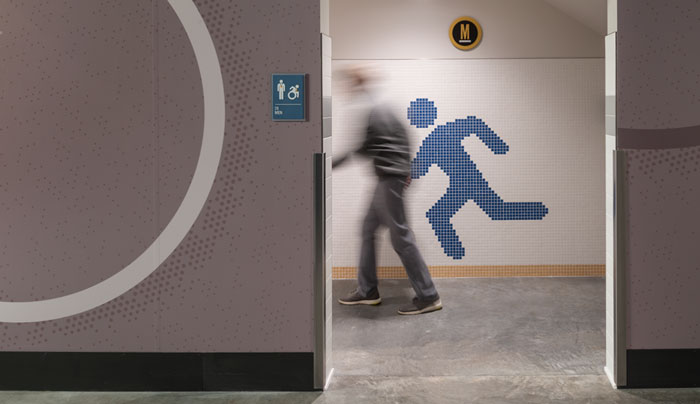 Playful restroom tile graphics add an element befitting a sports facility.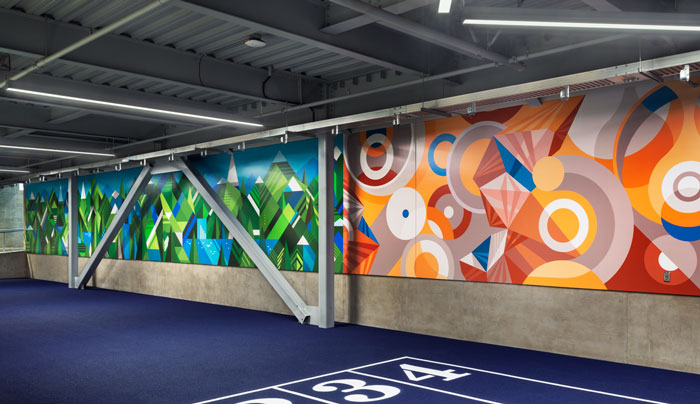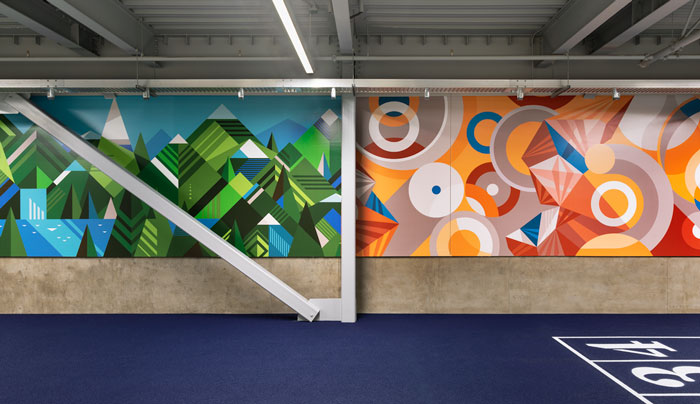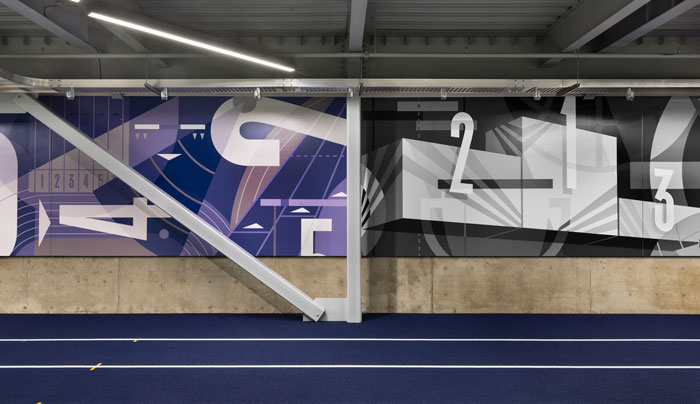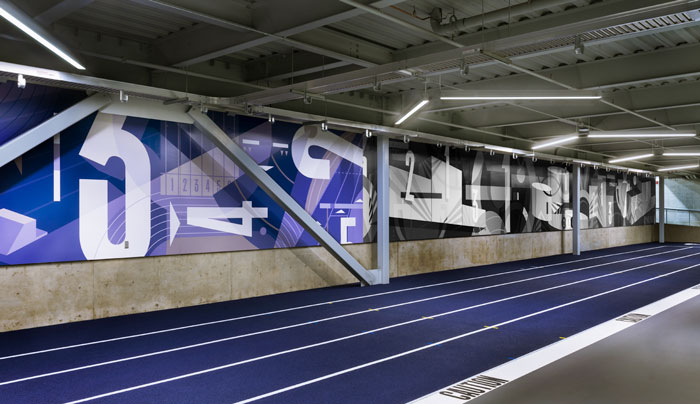 250' mural graphics – comprising four distinct themes – were added to the venue's lower-level warm-up track area.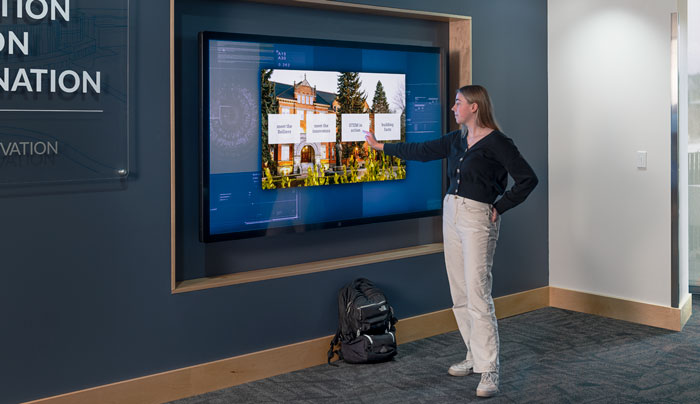 Gonzaga University
For the new John & Joan Bollier Family Center for Integrated Science & Engineering, helveticka worked with Integrus Architecture and GU's Donor Relations department on the development of an interactive touchscreen.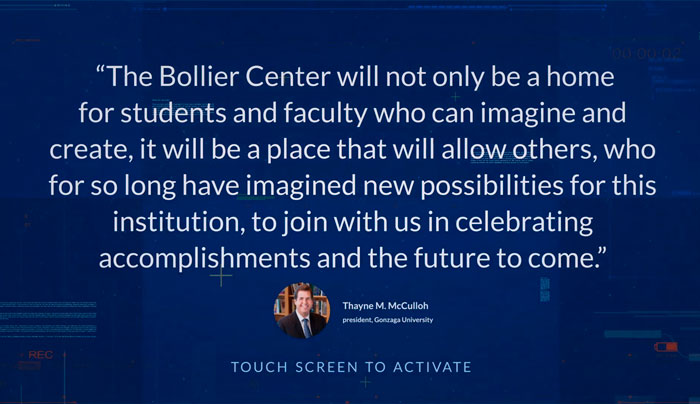 Rather than a static presentation, GU opted for a changing – and changeable – solution to not only showcase the building's donors, but also highlight the engineering program's faculty, students, and alumni.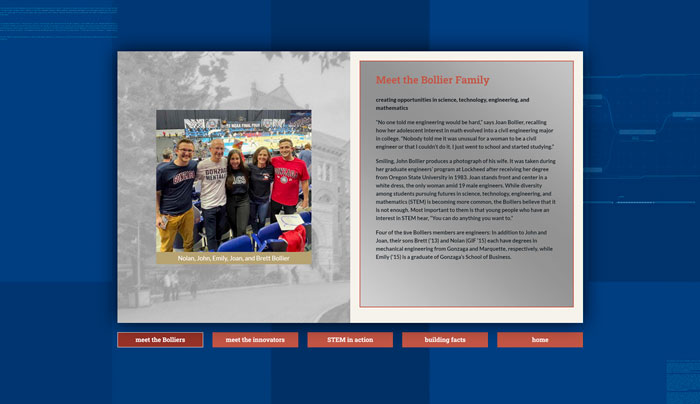 The content includes custom animation, photography, and feature stories.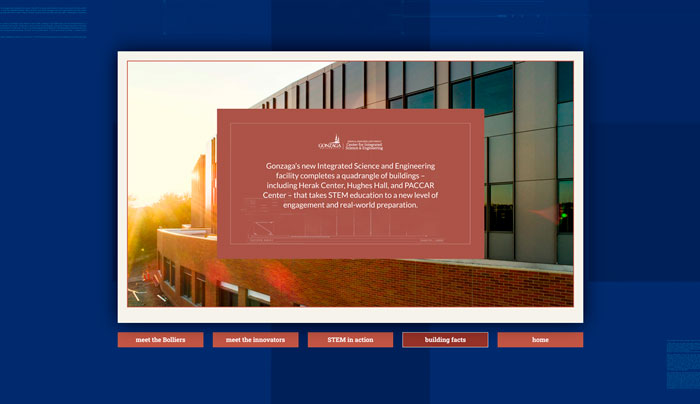 helveticka designed, programmed, and installed the 86-inch touchscreen.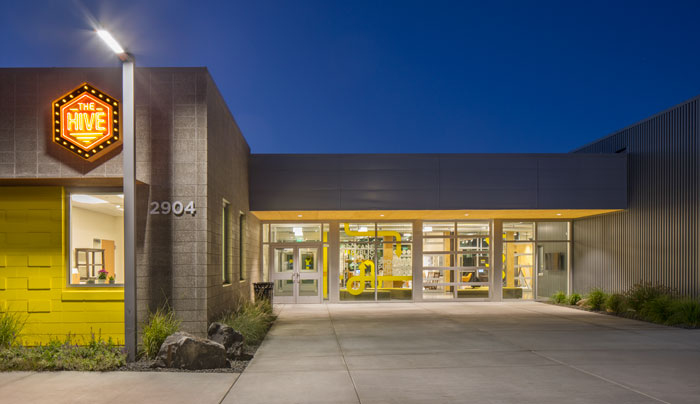 Spokane Public Library and Spokane Public Schools
An innovative partnership between Spokane Public Library and Spokane Public Schools, The Hive is a non-traditional home for artists in residence, public event spaces, and an educational program for public school professionals.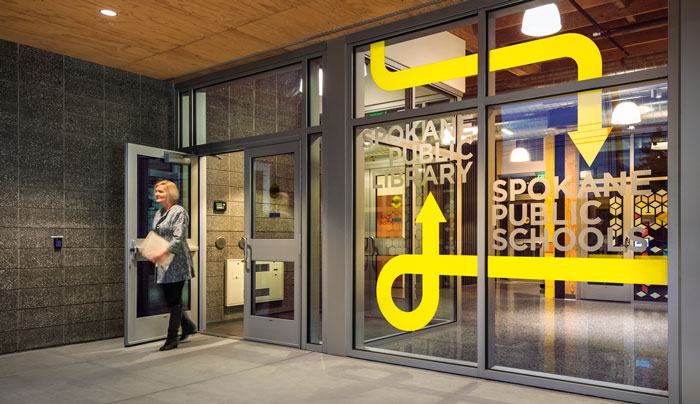 The main entrance identifies the building's two partners: Spokane Public Library and Spokane Public Schools. Playful arrows highlight room signage throughout the building.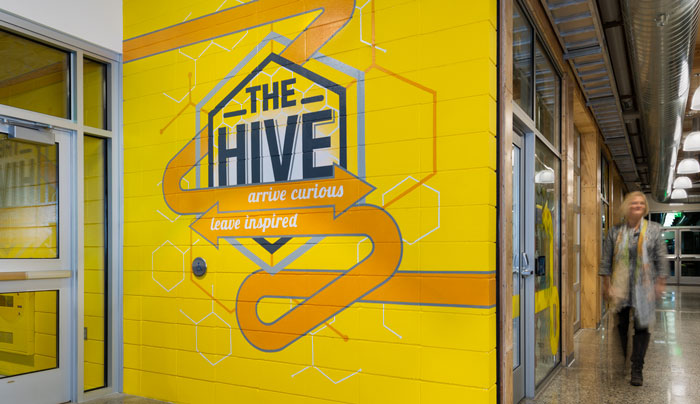 A hand-painted mural greets entering visitors with the message "Arrive Curious, Leave Inspired."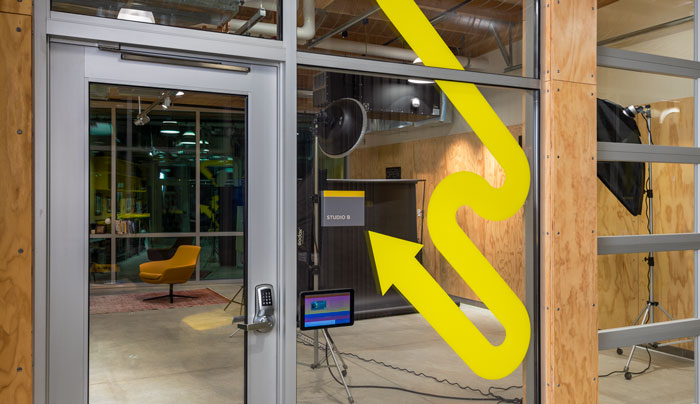 Local artists can apply for studio residencies – from three to six months in length – to create and share their work with the public. helveticka also designed the building's code signage.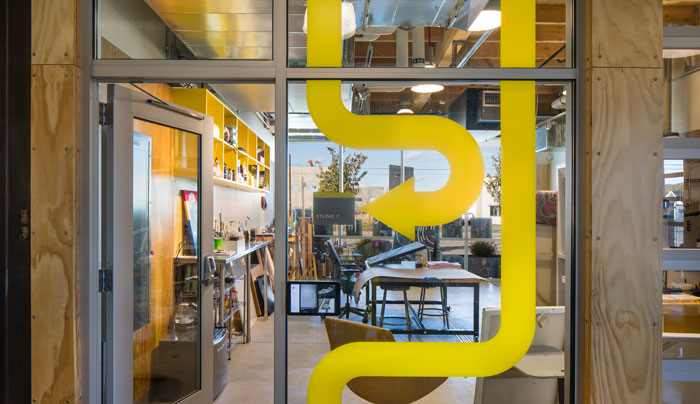 Underscoring the desire to become a community asset, The Hive incorporates learning, maker, and event spaces that serve the public.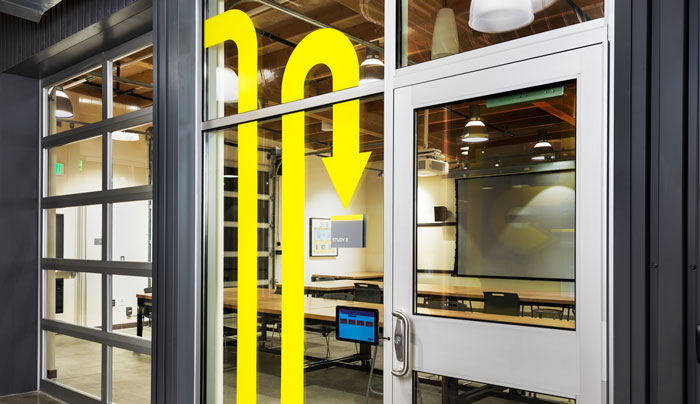 The Hive is one of three new facilities constructed as part of Spokane Public Library's "Imagine the Library of the Future" project. Integrus Architecture designed the building.
Avista
Following an internal launch of Avista's refreshed mission, vision, and values, helveticka was tasked with demonstrating the company's commitment to those principals at its corporate headquarters in Spokane.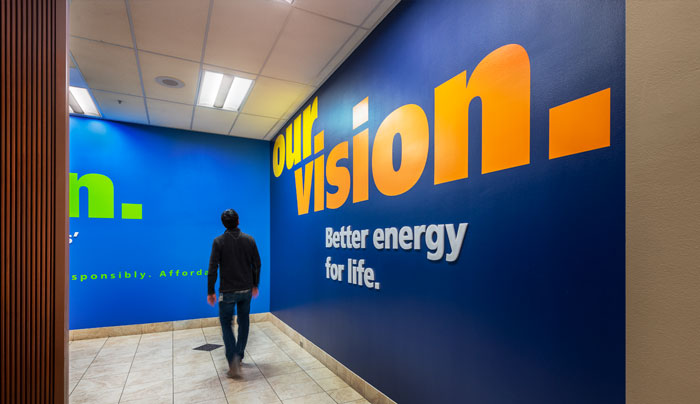 Key interior walls were identified throughout the building, then painted in Avista's brand colors to act as backdrops for large, bold messaging.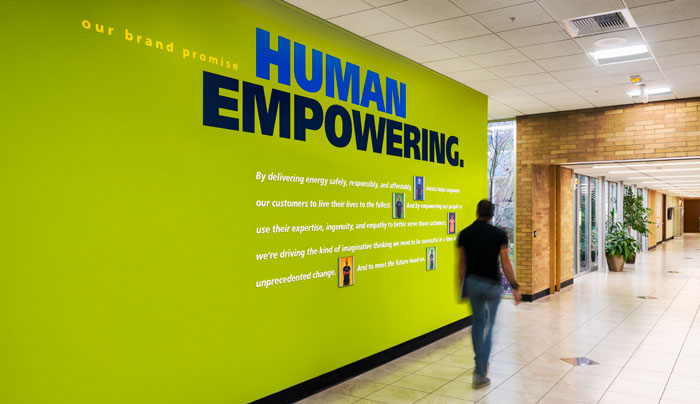 The company's brand promise, which serves as the focal point of Avista's culture, was presented in a way that integrated changeable employee portraits.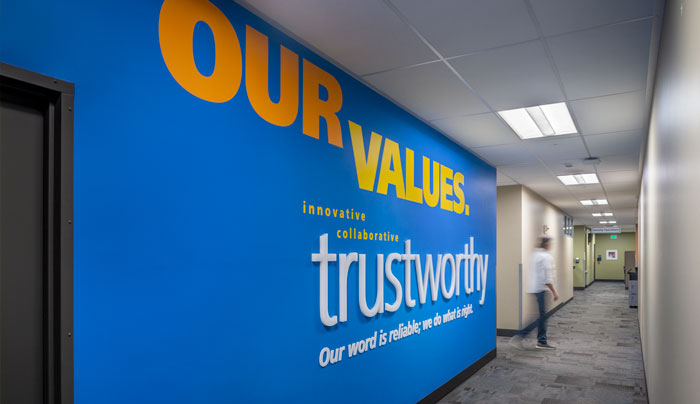 Each of Avista's three values was presented in a common, high-traffic area on three different floors.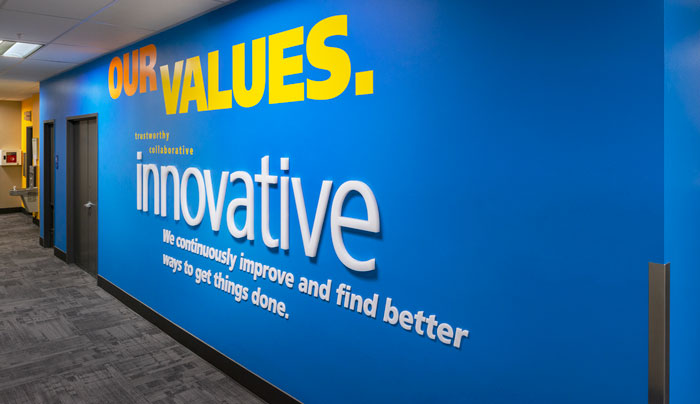 A combination of colored vinyl and 3D laser-cut acrylic letters was applied to the wall surfaces to provide depth, dimension, and interest.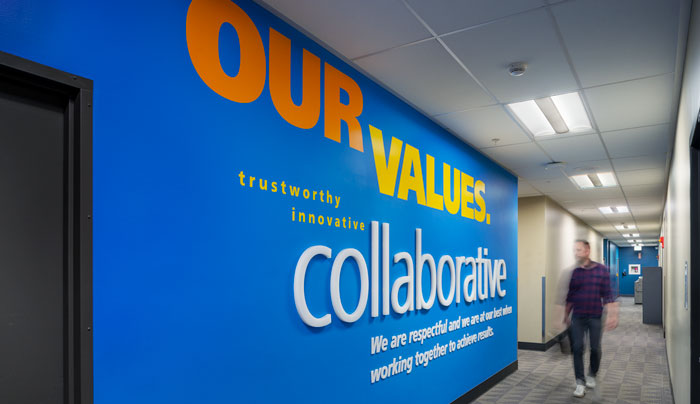 Avista's headquarters is home to around 800 of its 1,700 employees.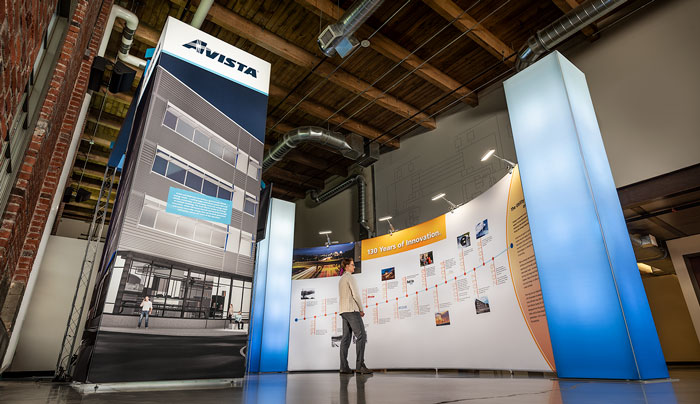 Avista
A large display in McKinstry's historic SIERR Building showcased Avista's role in the development of Spokane's Catalyst Building, the most sustainable building in North America.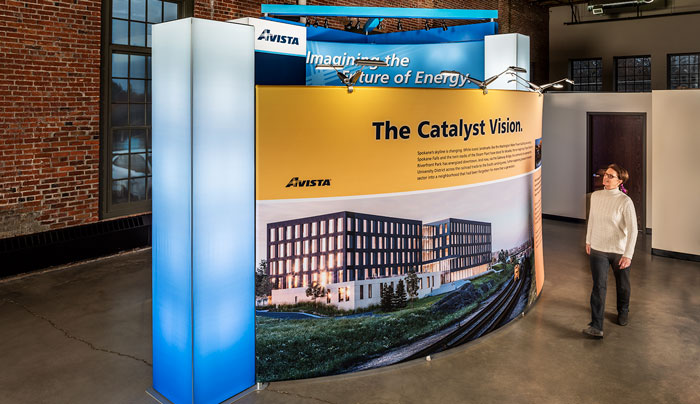 The custom display occupied a 15' x 22' footprint, and featured internally lit columns reaching heights of nearly 12'. Used for events and tours, it shared a large open space with other displays.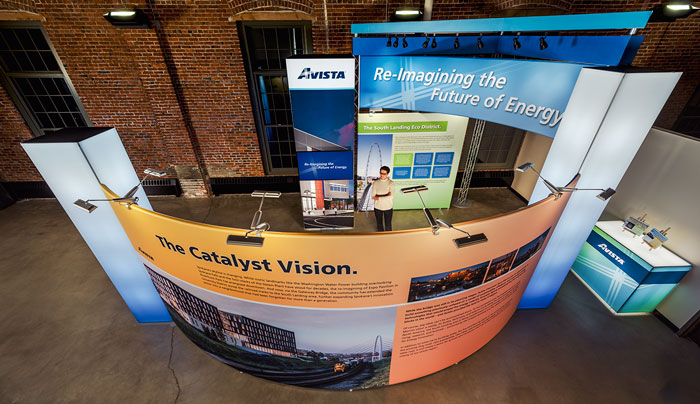 Themed "Re-Imagining the Future of Energy," the display took advantage of a built-in monitor to provide additional content; a side table held related print materials.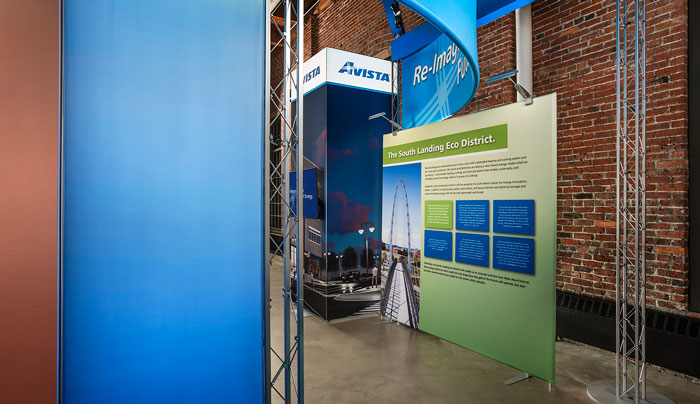 In addition to the overall vision of the project, the display's narrative provided a glimpse into the future of energy generation and distribution. Visitors were able to enter from multiple directions.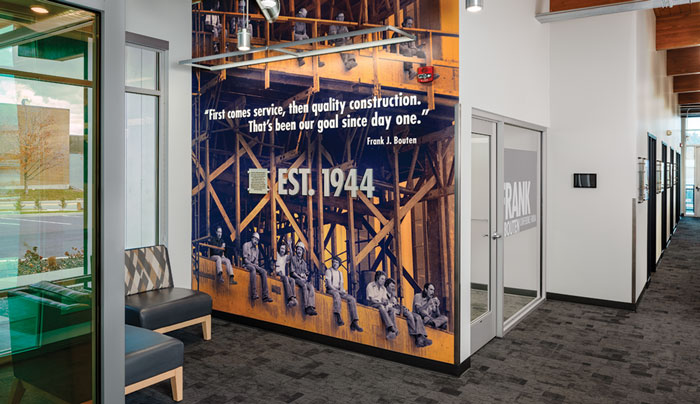 Bouten Construction Company
For Bouten Construction Company's new headquarters, space was set aside to highlight important milestones, key projects, and the company's seventy-five-year history.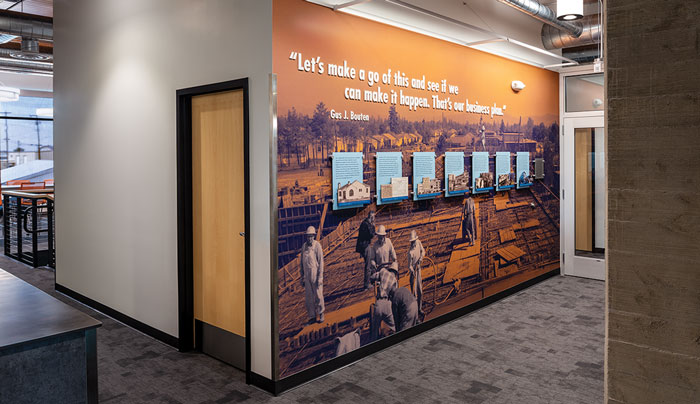 helveticka worked with Bouten to select historical imagery, and with the architect to integrate the graphic elements within the building's interior.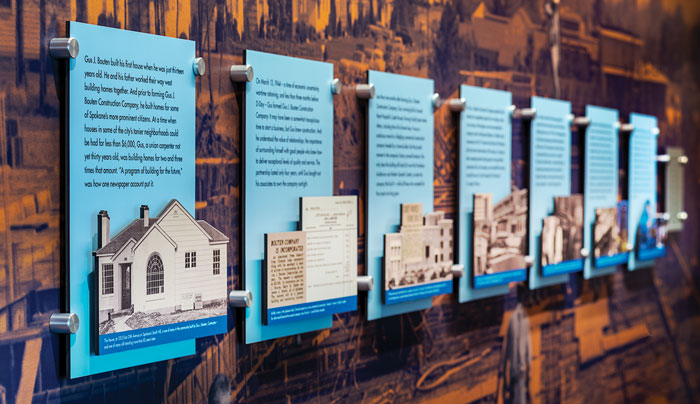 A detail of the milestones wall, which features superimposed laser-cut Gatorboard images from Bouten's photographic archive.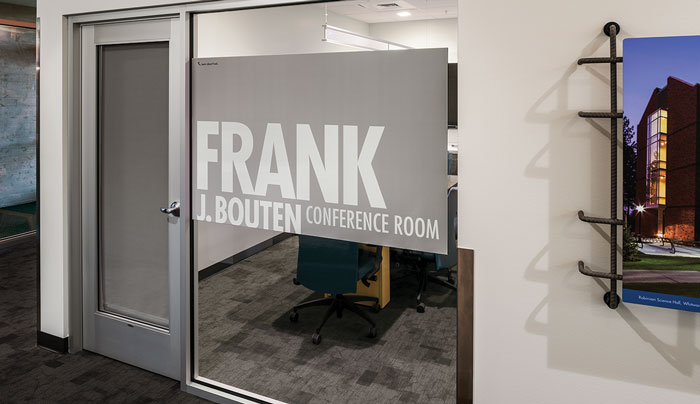 Two conference rooms were named for the first two generations of Bouten leadership, and identified with vinyl signage mounted on the windows.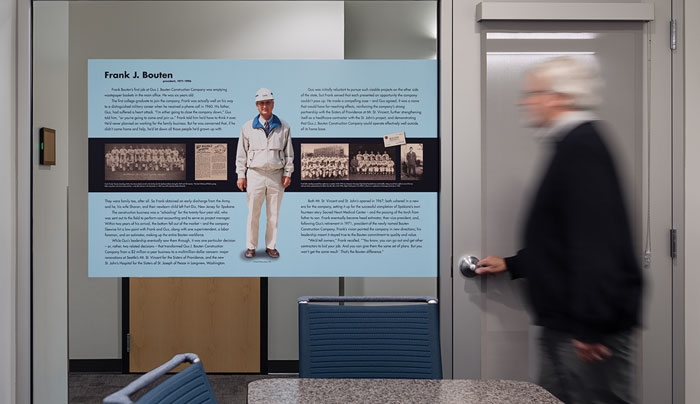 Inside the Frank J. Bouten conference room – and on the reverse of the sign – is a biography of Frank.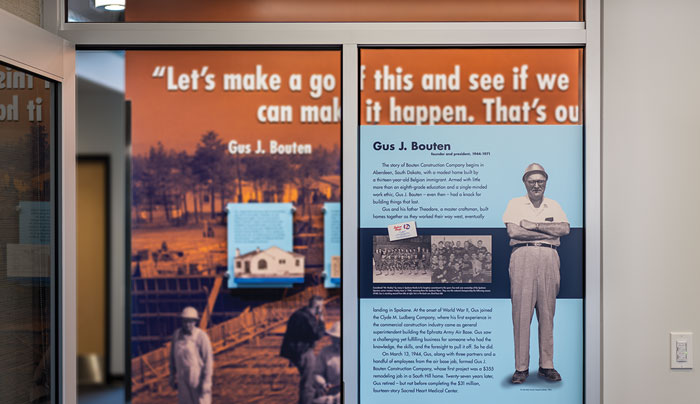 The Gus J. Bouten conference room not only features a similar bio, but also looks out on a quote from the company's founder.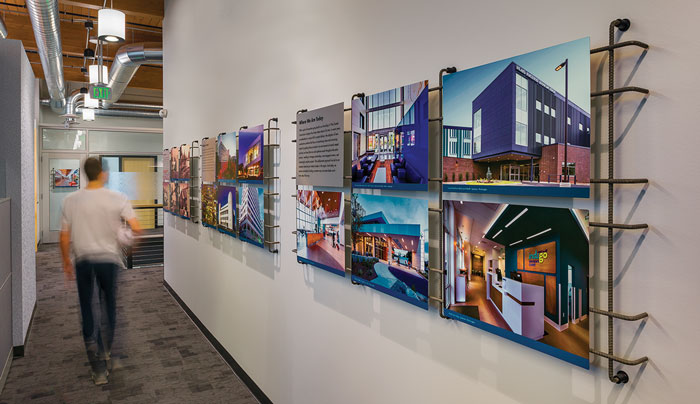 A rebar mounting system, originally designed by helveticka for Bouten's old office building, was re-purposed to support changeable project imagery.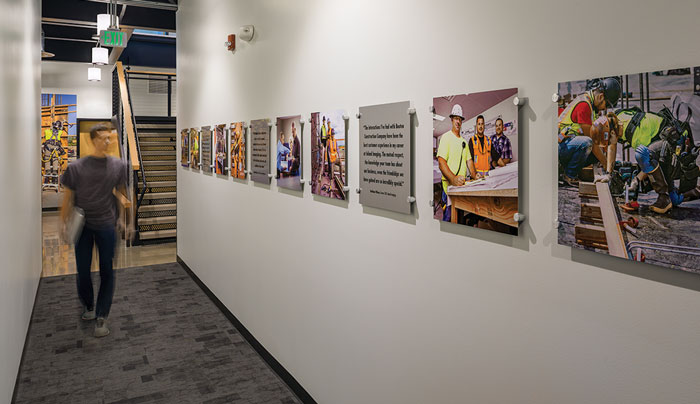 Quotes from clients are interspersed among contemporary photography, all of which is printed on aluminum panels.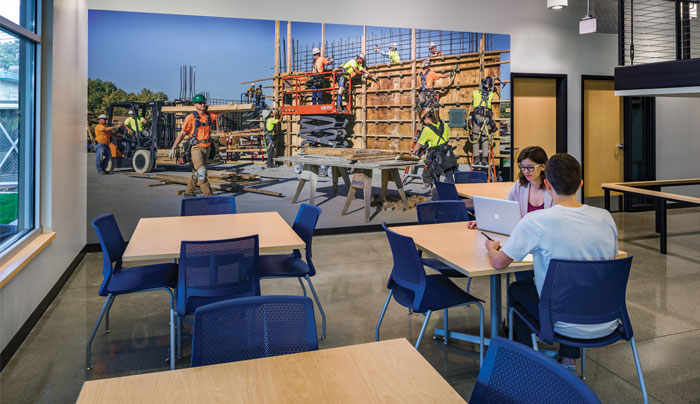 A massive project photograph, taken specifically for this purpose, was printed on vinyl and mounted on a wall in the employee break room.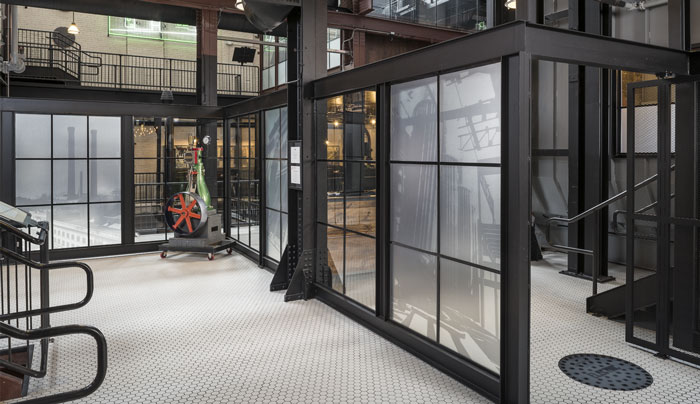 Steam Plant
A recent renovation at the Steam Plant included interiors by Spokane-based HDG Architecture and complementary graphics by helveticka.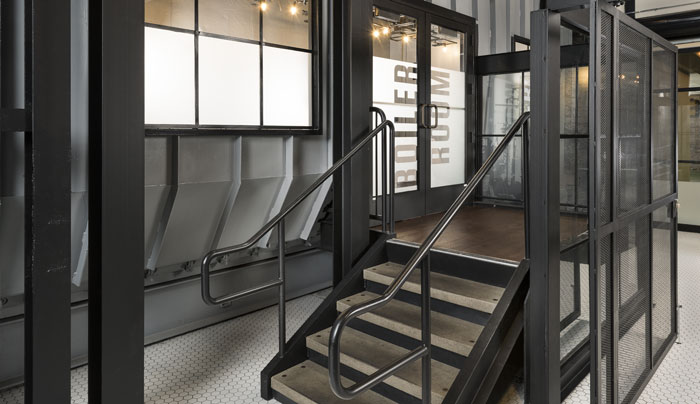 Working with HDG and the Steam Plant team, helveticka created cut-vinyl window graphics to identify individual spaces.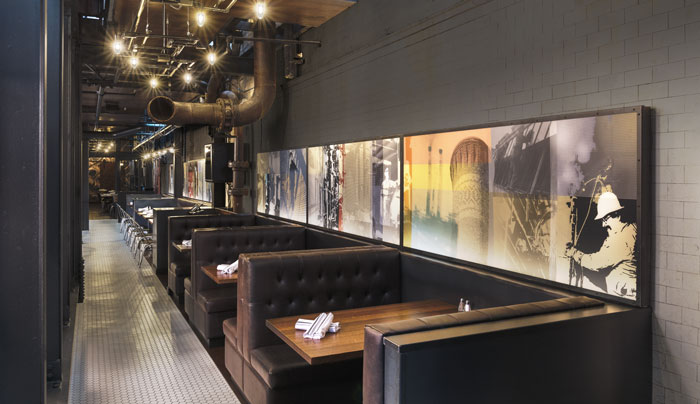 Archival imagery, backlit with adjustable LED lighting, was added to the dining area to remind patrons of the building's industrial roots.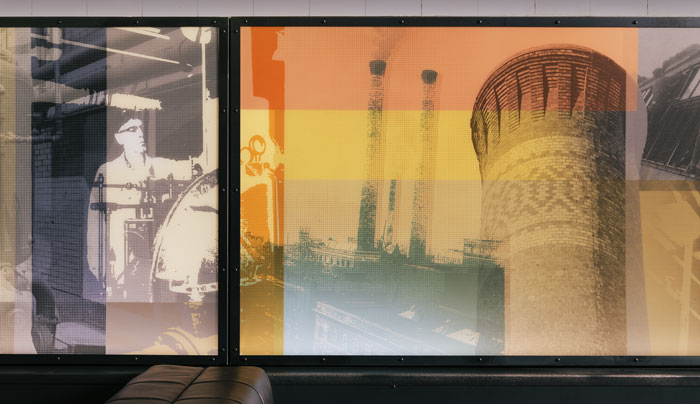 The archival imagery, treated with posterized and half-tone graphics, was printed on vinyl, mounted on Plexiglas, and encased within a custom frame.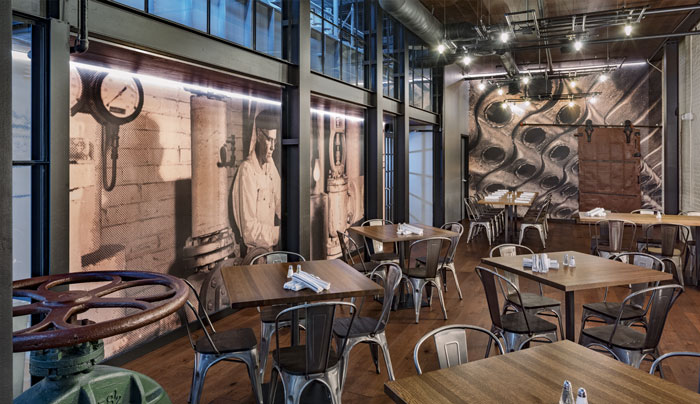 Photographic murals – with a half-tone overlay – adorn the walls of the Centennial Room, one of the Steam Plant's event spaces.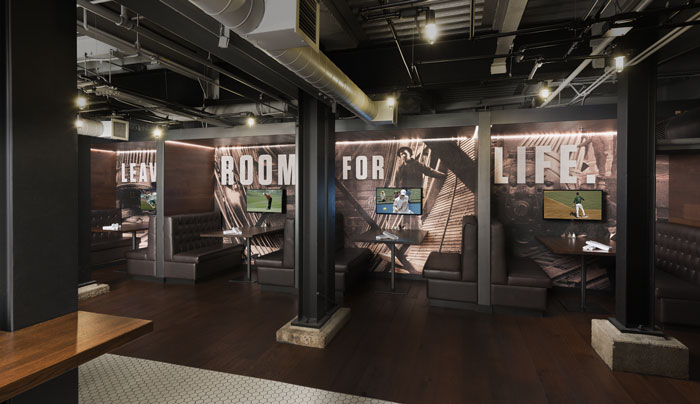 Private booths in the bar area feature a set of three historical photos accompanied by a typographic treatment.
back to top
|
<
1
2
3
4
5
6
7
>
<
>